Genevieve Signoret
09 abr 2018
The Fed expects to speed up its pace of tightening although core PCE inflation persists below the Fed's 2% target and despite Fed claims that 2% is a symmetric target, not a targeted upper limit.We think this is a mistake and that it will cause the Fed to continue to fail over the next two years to meet its target.
We think the Fed wrong to speed tightening with core PCE below target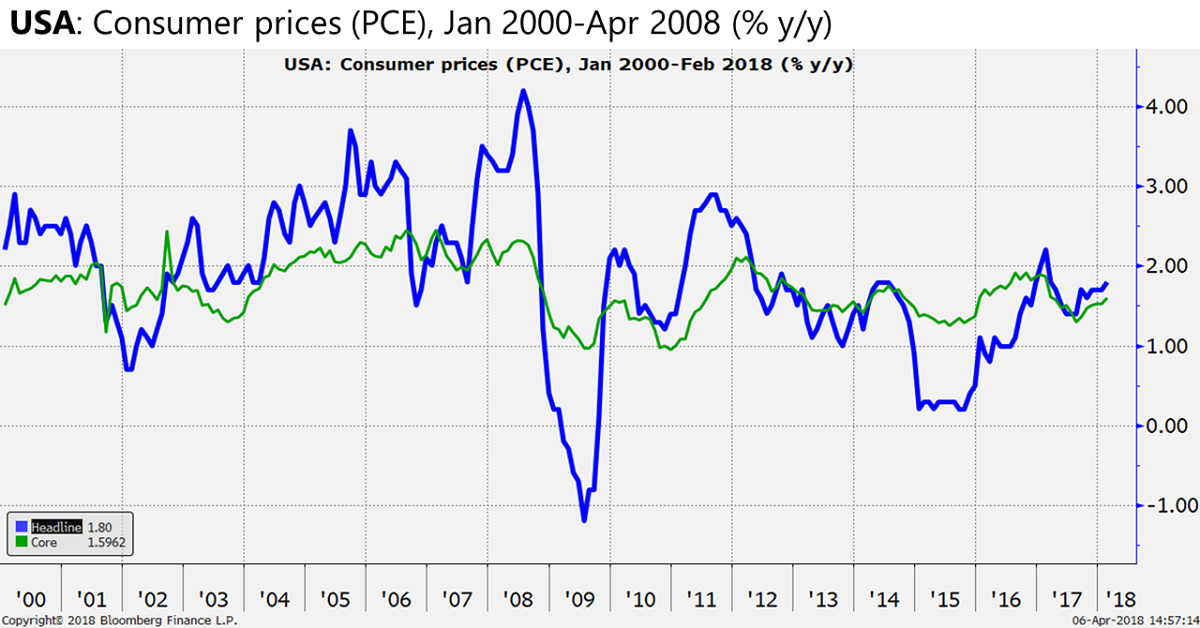 Because of this view, unlike the Fed itself and unlike the forecast consensus, we expect the Fed in 2018–2019 to keep on missing its target.
Hence, we (unlike Fed and consensus) think Fed will keep missing its target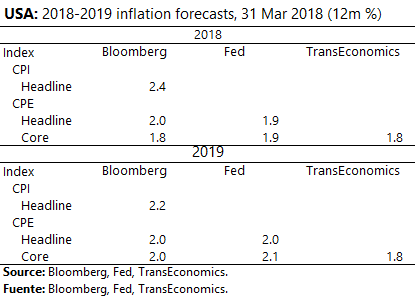 The letters "PCE" stand for Personal Consumption Expenditure, an index used to measure consumer spending on an extremely broad swath[1] of goods and services and their prices. Its core index excludes food and energy and thus marks underlying trends. A smaller basket of goods and services used to measure inflation is the Consumer Price Index, or CPI. Like the PCE, the CPI has index that excludes food and energy to help us detect emerging medium- and long-term trends; hence, their importance to the Fed and to inflation forecasters.
Although headline CPI inflation at 2.2% is now above the Fed's favored 2%, core CPI inflation at 1.8% today is not.
Headline CPI inflation looks healthy but core still does not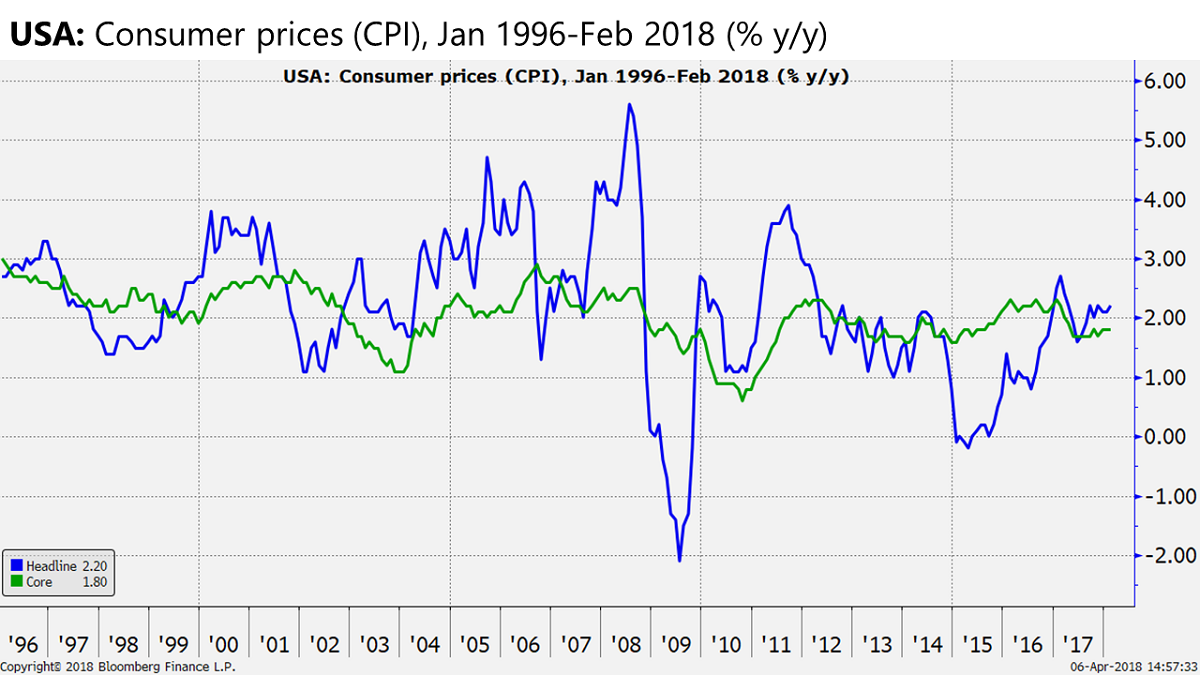 We now turn to inflation expectations, thought to drive inflation itself. They are measured in three ways: by consumer surveys, by surveys of professional forecasters, and through asset prices.
Fortunately, [2] although the Michigan Survey shows that the average inflation rate that consumers expect to emerge over the next five years has slid from about 3% to about 2.5%, it does seem to have stabilized. Should consumer-held inflation expectations resume their decline, it could cause the Fed to slow down or halt tightening.
Consumer inflation expectations are down but again stable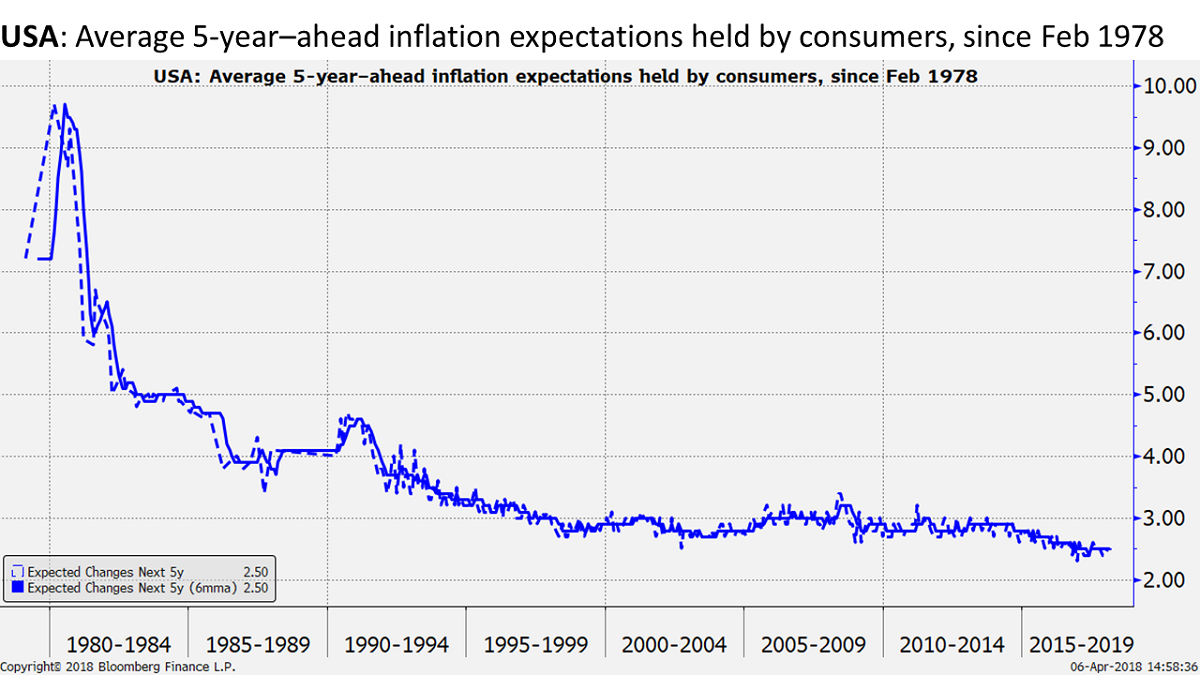 Professional forecasters' inflation expectations have also fallen some but are now on a recovery trend. (If they look unstable to you below, it's because of the scale.)
Professional forecaster inflation expectations have recovered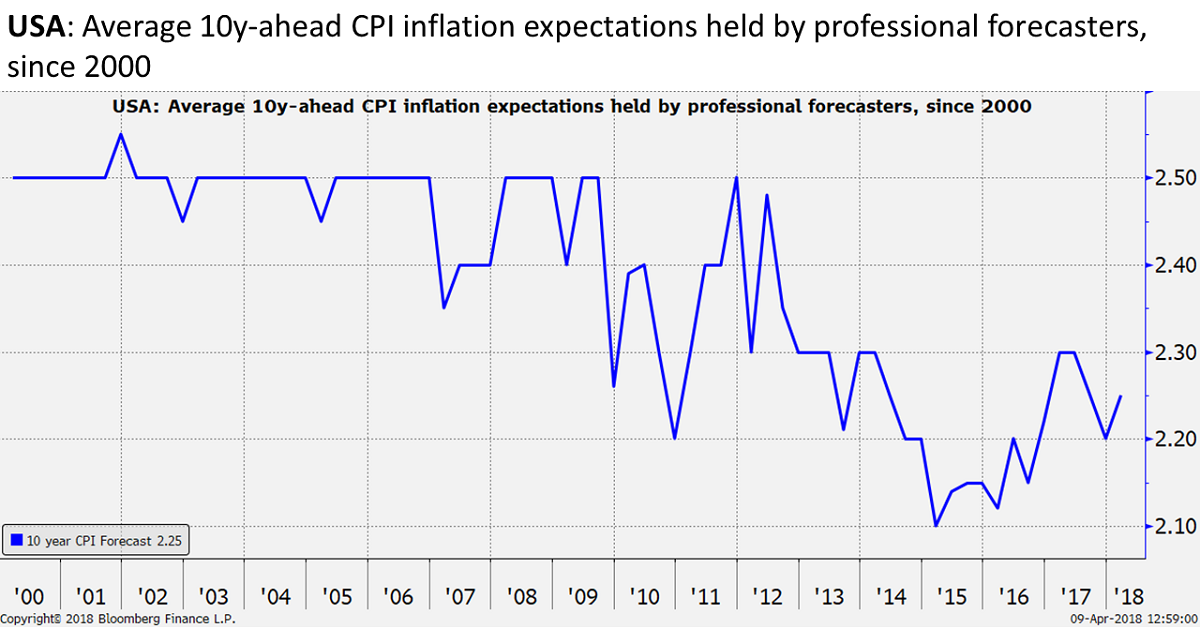 In addition to surveys of consumers and of professional forecasters, asset prices give off signals as to investor outlooks for inflation. The indicator we use is the premium that non–inflation-adjusted 5-year Treasury bonds pay over inflation-protected bonds of like maturities. We interpret[3] this spread to be telling us how much compensation market players must earn to induce them to take on the inflation risk of buying and holding to maturity nominal (rather than inflation-protected) bonds.
We infer from bond prices that the collective market outlook for U.S. inflation accumulated over the next five years is an annual rate of 2%. This is just where the Fed would like to see it. (Could this help explain why the FOMC is charging ahead with rate hikes despite persistently low core PCE inflation?)
Per bond market, Fed has met target. Hence faster tightening?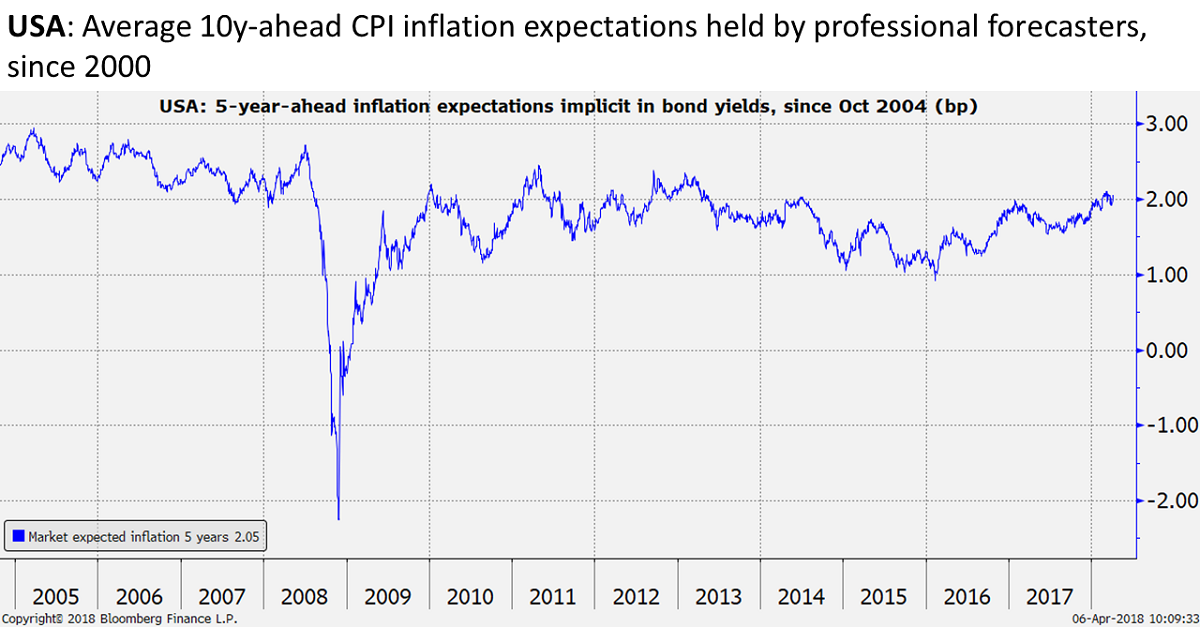 All these graphs we're throwing at you are great for spotting trends but don't tell you what inflation rates today are! Here are the key rates observed in the past five months:
Note how low core inflation rates remain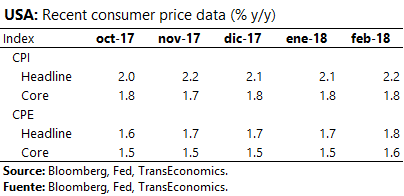 Looking ahead, the next data points, CPI headline and core inflation will be released on April 11.
More data is due on April 11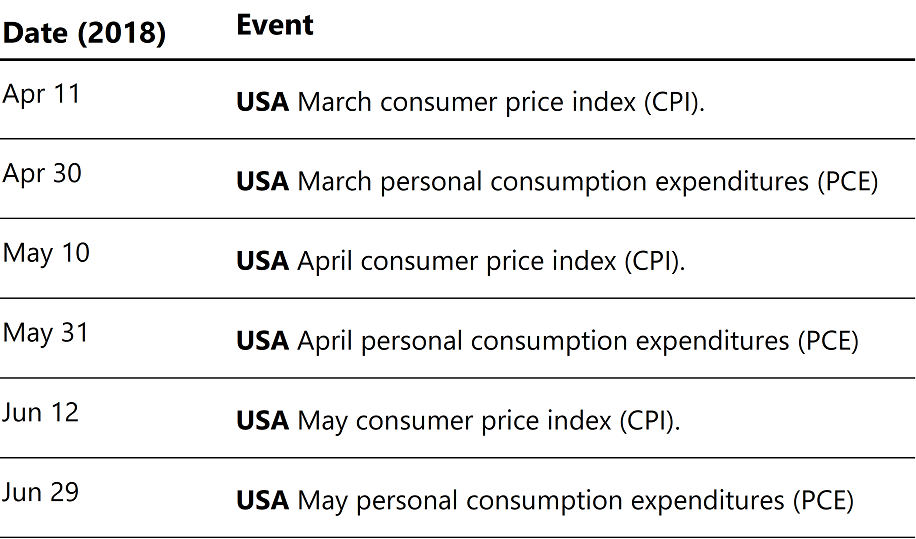 [1]The core PCE price index measures the prices paid by consumers for goods and services in a way that excludes the volatility caused by movements in food and energy prices to reveal underlying inflation trends.
[2]Our use of the word fortunately here may sound strange to the Mexican readers in our audience, whose experience of price instability has historically been taken the form of inflation. But, remember, the price instability risk facing the U.S. economy since 2008 has been that of deflation.
[3] This methodology has been surpassed in sophistication by other asset-price–based models developed in places such as the Cleveland Fed. But, as long-term investors looking on the lookout for shifts in trends found in glaring patterns, it works fine for us. Moreover, it's easy to work with, understand, and explain to clients.
Genevieve Signoret
03 abr 2018
North Korea is a tail risk
All three of our forecast scenarios assume that North Korea and the USA will avoid violence. Our decision to explicitly include this in our list of assumptions underlying all three scenarios is our way of telling you that we see its breakdown (violence breaking out between North Korea and the USA) as a tail risk—an event unlikely to occur but one that, if it does occur, could cause our entire forecast structure to break down and wreak havoc on markets. So we're watching this risk, despite its wee size, with a keen eye. In today's Timón Económico, we brief you on it.
We refer to the risk that, owing to unduly inflammatory rhetoric or other diplomatic bungling by U.S. President Donald Trump or North Korean leader KIM Jong Un, violence will erupt.
Violence could escalate into a conventional or nuclear exchange, a ground invasion of North Korea by the United States, mass North Korean migration to China, and untold death and destruction in the entire Korean peninsula, Japan, China, Russia, and the USA.
Actors
North Korea wants security guarantees, sanctions lifted, (possibly) foreign aid, and the return of defectors. To feel completely secure, it would need the USA to remove South Korean from its nuclear umbrella.
South Korea wants security, the return of citizens kidnapped by the North, and reunion of families split by the War.
While China would love the U.S. military presence in South Korea to end, it will settle for continuation of the status quo. It especially does not want the USA to invade North Korea. Even if a nuclear exchange could be avoided, China would be swarmed with refugees and, unacceptably, would have U.S. troops just across its border.
The USA wants North Korea ultimately to totally denuclearize and in the short run stop developing and testing nuclear weapons and missiles from which to fire them. President Trump, additionally, seeks to restore "respect" for the USA worldwide, which he perceives to have been diminished by what he sees as decades of U.S. softness. This, in his world view, is a major reason why countries such as North Korea think they can get by with destabilizing misbehavior.
Geography
North Korea's 23.1 million citizens live on 120,536 square kilometers. By comparison, in Mexico, 5.5 times more people share an area 16 times larger; in the USA, 14 times more people live in an area 82 times larger.
North Korea is bordered to the north mostly by China but also for a few (18.3) kilometers by Russia, to the south by South Korea, to the east by the Sea of Japan (also called The Korea East Sea) and to the west by the Korea Bay.
Map of the North Korea (DPRK)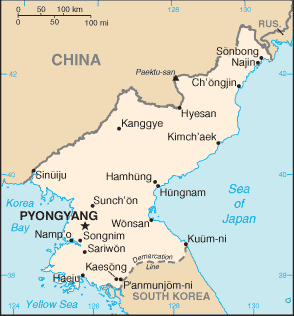 Source: CIA World Factbook, distributed under a CC-BY 2.0 license.
North Korea's southern border is a mere buffer strip called the Korean Demilitarized Zone (DMZ) drawn under the Korean Armistice Agreement, which, in 1953, ended hostilities between the two Koreas but not, officially, the war.
Government
North Korea is a one-party state described in its 2009 constitution as revolutionary, socialist, and guided by Juche, roughly translated as "national self-reliance". Since 2011, its head of state is KIM Jong Un.
History
We share this compressed history of North Korea through early 2017 from the CIA World Factbook:
An independent kingdom for much of its long history, Korea was occupied by Japan beginning in 1905 following the Russo-Japanese War. Five years later, Japan formally annexed the entire peninsula. Following World War II, Korea was split with the northern half coming under Soviet-sponsored communist control. After failing in the Korean War (1950-53) to conquer the US-backed Republic of Korea (ROK) in the southern portion by force, North Korea (DPRK), under its founder President KIM Il Sung, adopted a policy of ostensible diplomatic and economic "self-reliance" as a check against outside influence. The DPRK demonized the US as the ultimate threat to its social system through state-funded propaganda, and molded political, economic, and military policies around the core ideological objective of eventual unification of Korea under Pyongyang's control. KIM Il Sung's son, KIM Jong Il, was officially designated as his father's successor in 1980, assuming a growing political and managerial role until the elder KIM's death in 1994. KIM Jong Un was publicly unveiled as his father's successor in 2010.
Following KIM Jong Il's death in 2011, KIM Jong Un quickly assumed power and has now taken on most of his father's former titles and duties. After decades of economic mismanagement and resource misallocation, the DPRK since the mid-1990s has faced chronic food shortages. In recent years, the North's domestic agricultural production has increased, but still falls far short of producing sufficient food to provide for its entire population. The DPRK began to ease restrictions to allow semi-private markets, starting in 2002, but has made few other efforts to meet its goal of improving the overall standard of living. North Korea's history of regional military provocations; proliferation of military-related items; long-range missile development; WMD programs including tests of nuclear devices in 2006, 2009, 2013, 2016, and 2017; and massive conventional armed forces are of major concern to the international community and have limited the DPRK's international engagement, particularly economically. The regime abides by a policy calling for the simultaneous development of its nuclear weapons program and its economy.
For events since early 2017, we the following from International Crisis Group (ICG):
Developments on the Korean peninsula have been dizzying, from talk of war, to hints of diplomacy, to symbolic gestures and now this: the acceptance by U.S. President Donald Trump of Democratic People's Republic of Korea (DPRK) leader Kim Jong-un's invitation to direct talks. Coming on the heels of the announcement of the first inter-Korean summit in a decade and of Pyongyang's decision to freeze nuclear and missile tests, this represents an important opening for diplomacy that should not be wasted.
At a minimum, prospects of a meeting (the first between an incumbent U.S. leader and his North Korean counterpart) can lower tensions on the Korean peninsula and, critically, mitigate risks – for the time being at least – of the U.S. and North Korea sliding toward a catastrophic confrontation. In the best-case scenario, it might pave the way for a longer-term solution to the decades-old Korean crisis. But optimism and hope must be tempered by caution: serious preparation by all sides will be required ahead of talks to calibrate and align expectations, and to prevent a failed summit that could quickly take the crisis back to the brink.
(…)
The 8 March announcement follows the latest round of talks between North and South Korean officials, including a dinner hosted by Kim, during which he expressed willingness to meet the U.S. president and in return freeze tests of nuclear and ballistic missiles, while turning a blind eye to U.S.-South Korean joint military exercises. South Korean National Security Adviser Chung Eui-yong, who led the South Korean delegation to those talks, conveyed Kim's message to U.S. officials, including President Trump himself.
The North Koreans' willingness to meet a U.S. president is not new; that long has been their goal. Nor is their willingness to put denuclearisation on the table novel; part of the regime's mantra for years has been that denuclearisation is tied to an end to U.S. threats, a standard as hard to define as it will be to meet.
Rather, what is new is that the U.S. president accepted the invitation, and that North Korea appears willing to take several steps to make this happen. The announcement was all the more unusual insofar as it appears to have been preceded by little direct diplomacy between U.S. and North Korean officials – indeed, by little preparation within the U.S. administration itself, where most officials seem to have been taken by surprise.
What to watch for
In the same article we just quoted, the ICG lays out preparatory steps that would raise the odds of a successful summit:
That Washington consults with China, Japan, and Russia
That the USA appoints a credible team to help prepare
That both sides reestablish contacts and rebuild relations
That both adjust and align expectations, moving toward a shared definition of a successful summit
That both quickly make goodwill gestures
And it defines summit risks:
"That Kim will offer little in return for the meeting, while portraying it as evidence that his nuclear weapons programme has forced the U.S. to treat him as an equal"
That "Trump will expect too much from the meeting, notably steps toward immediate denuclearisation, which will set the stage for a return to sabre-rattling and brinkmanship when that goal is unmet"
Our action plan
In tracking unfolding events related to North Korea, we the portfolio strategy team are using that ICG list of upside and downside risks[1], poised to adjust if necessary our classification of the risk that violence will break out between the USA and North Korea as a tail risk.
[1] Upside risk is market jargon for upside potential. Downside risk is market jargon for risk.
Genevieve Signoret
28 mar 2018
Resumen ejecutivo
Calma externa
Visualizamos tres escenarios para la economía global y los mercados bursátiles en 2018-2019. Nuestro escenario central, llamado Calma externa y al cual asignamos una probabilidad subjetiva de 75%, asume que, fuera de México, en política y geopolítica, la tensión ni sube ni baja, la actividad económica de China se desacelera, y las guerras comerciales apenas frenan el comercio. El estímulo fiscal que se aprobó en EE UU en 2017 resulta impulsor más de oferta que de demanda y, si el congreso llega a aprobar un plan de infraestructura, dicho plan no resulta significativo. Afortunadamente, la Fed lee correctamente estos signos y ralentiza su trayectoria alcista observada y esperada. Prevalece el optimismo en los mercados bursátiles y crediticios.
Bajo estos supuestos, pronosticamos que la economía internacional continúe creciendo a un ritmo decente, mientras que la inflación se mantenga controlada. Para el final de 2018, esperamos que el límite superior del rango de la tasa objetivo de fondos federales de la Fed alcance 2.25%, el rendimiento del bono del Tesoro de EE UU de 10 años esté en 3.12% y el dólar en €1.00 =$1.30 y $1.00=¥120. Un año más tarde, la tasa de la Fed sube a 2.75%, el rendimiento del bono del Tesoro de EE UU llega a 3.74% y los tipos de cambio dólar frente a euro y yen en €1.00 =$1.34 y $1.00=¥120.
Nerviosismo en México
Para México, asumimos que el ascenso de Andrés Manuel López Obrador a la presidencia no producirá pánico, pero sí inducirá cautela en la inversión fija e inestabilidad en el mercado cambiario.
Bajo esas premisas, pronosticamos que, para el final del 2018, el peso se cotice en $1.00=MXN19.00 y 12 meses después en $1.00=18.50. También que, al observar el deterioro en el tipo de cambio, Banxico renueve su trayectoria restrictiva: para 2018, esperamos que Banxico eleve tasas hasta 8.25% y las deje en ese nivel en 2019. En consecuencia, la actividad económica se desacelera en 2018 (el PIB real se ralentiza a 2.0%) y se recupera ligeramente (a 2.35%) en el 2019, pero la inflación continúa su descenso (a 4.1% a diciembre 2018 y permanece en 4.1% un año más tarde).
Escenarios de riesgo
También imaginamos un escenario más pesimista, llamado Recesión en 2019. Le asignamos una probabilidad subjetiva de 15%. Tensiones geopolíticas suben, la Fed se equivoca, las guerras comerciales crecen, los mercados se tornan pesimistas y la elección de López Obrador produce pánico. La economía mundial entra en recesión el año próximo. Se fortaleza el yen y cae el euro frente al dólar y el peso se desploma en momentos hasta $1.00=MXN 25.00. El bono del Tesoro de 10 años se aprecia: para diciembre 2019 su rendimiento alcanza 2.10%.
Por otro lado, formulamos un escenario optimista bautizado Manía en EE UU (probabilidad=10%), en el cual se relajan las tensiones geopolíticas, López Obrador pierde las elecciones en México, se impulsa la demanda en EE UU, disipan las guerras comerciales, la Fed permite cierta inflación y entran en manía los mercados crediticios y bursátiles. Se deprecian el yen y euro frente al dólar y se refuerza el peso. El rendimiento del bono de Tesoro de 10 años para diciembre 2019 está en 4.00%.
Pronósticos anuales bajo escenario central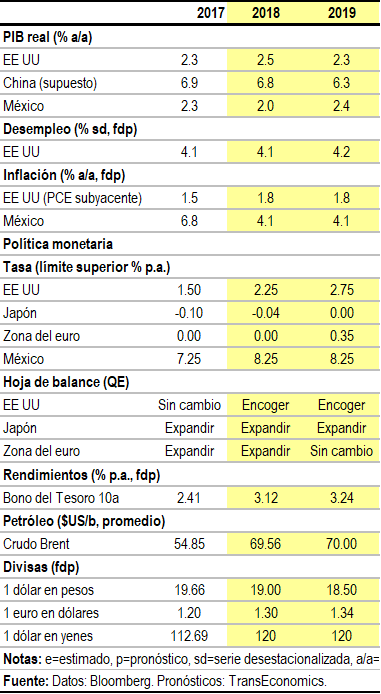 Lea el informe completo, incluyendo el detalle de los supuestos de cada escenario y un juego completo de trayectorias trimestrales y anuales.
Genevieve Signoret
28 mar 2018
Summary
External calm
We envision three scenarios for the global economy and world markets in 2018–2019. Our central scenario, which we call External Calm and to which we assign a 75% subjective probability, assumes that, outside of Mexico, in politics and geopolitics, tensions neither rise nor fall, China decelerates, and trade wars scarcely slow down trade. Last year's U.S. fiscal stimulus spurs new supply but does nothing for demand, and, if Congress passes an infrastructure plan at all, the plan fails to produce much demand. Fortunately, the Fed reads these signs and slows down its actual and projected tightening path. Optimism still prevails in credit and stock markets.
Under these assumptions, we see the global economy continuing to grow at a decent clip, while inflation stays under control. For end 2018, we see the upper limit of the Fed's target range for the federal funds rate reaching 2.25%, the yield on a 10-year U.S. Treasury bond at 3.12% and the dollar versus the euro and yen at €1.00 =$1.30 and $1.00=¥120. Over the next 12 months, the Fed rate climbs to 2.75%, the 10-year Treasury yield to 3.24%, and the dollar against the euro and yen to €1.00 =$1.34 y $1.00=¥120.
Domestic volatility
For Mexico, we assume that, while Andrés Manuel López Obrador's rise to the presidency does not produce panic, it does induce both caution in fixed investment and instability in peso markets.
Under these assumptions, we see the peso ending 2018 at $1.00=MXN19.00 and 2019 at $1.00=MXN18.50. Banxico, upon observing peso weakening, resumes its tightening path: in 2018 it hikes rates to 8.25% and leaves them there throughout 2019. Growth decelerates in 2018 (real GDP slows to 2.0%) and barely recovers (to 2.3%) in 2019, but inflation continues its descent (to 4.1% by December 2018 and stays in 4.1% one year later).
Risk scenarios
We also imagine a more pessimistic scenario, called Recession in 2019. We give it a 15% subjective probability. Geopolitical tensions rise, the Fed tightens too fast, trade wars expand, markets turn pessimistic, and López Obrador's election produces panic. The global economy goes into recession next year. Against the dollar, the yen strengthens, while the euro weakens, and the peso falls at times to $1.00=MXN25.00. The 10-year U.S. Treasury bond appreciates to an end-2019 yield of 2.10%.
On the other hand, we also envision an optimistic scenario called U.S. mania (probability=10%), in which geopolitical tensions relax, López Obrador loses the election in Mexico, U.S. demand enjoys stimulus, trade wars dissipate, the Fed allows some inflation, and credit and stock markets enter a manic phase. The yen and euro depreciate against the dollar and the peso gains. The yield on a 10-year bond by December 2019 has risen to 4.00%.
Annual forecast under central scenario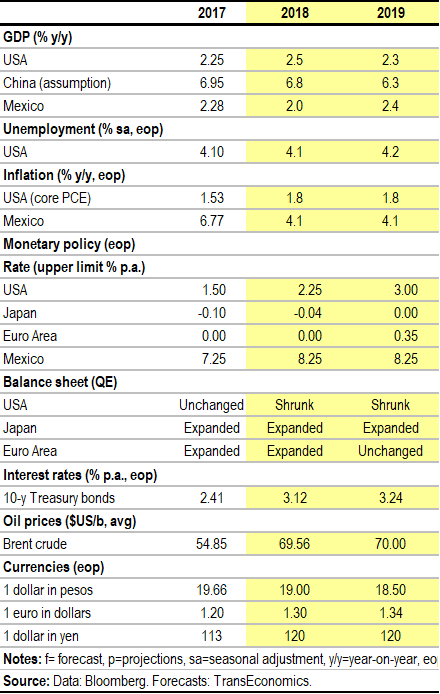 Read the full report, including detailed scenario assumptions and a complete set quarterly and annual trajectories.
Genevieve Signoret
18 nov 2016
In light of Donald Trump's surprise electoral victory on November 8, we have started from scratch and built three new global macro forecast scenarios.
Our central scenario is now called Less open in reference to its main assumption, that of rising protectionism.
Our downside risk scenario is called Closing. In that scenario, the global wave of protectionism we're seeing already, with the UK referendum on Brexit, Trump's election in the USA, and a stalling of other free trade agreements still under negotiation, turns out even worse than expected today.
Our upside scenario is called Open. It assumes that trade talks lead to more, not less, open borders than we're anticipating today.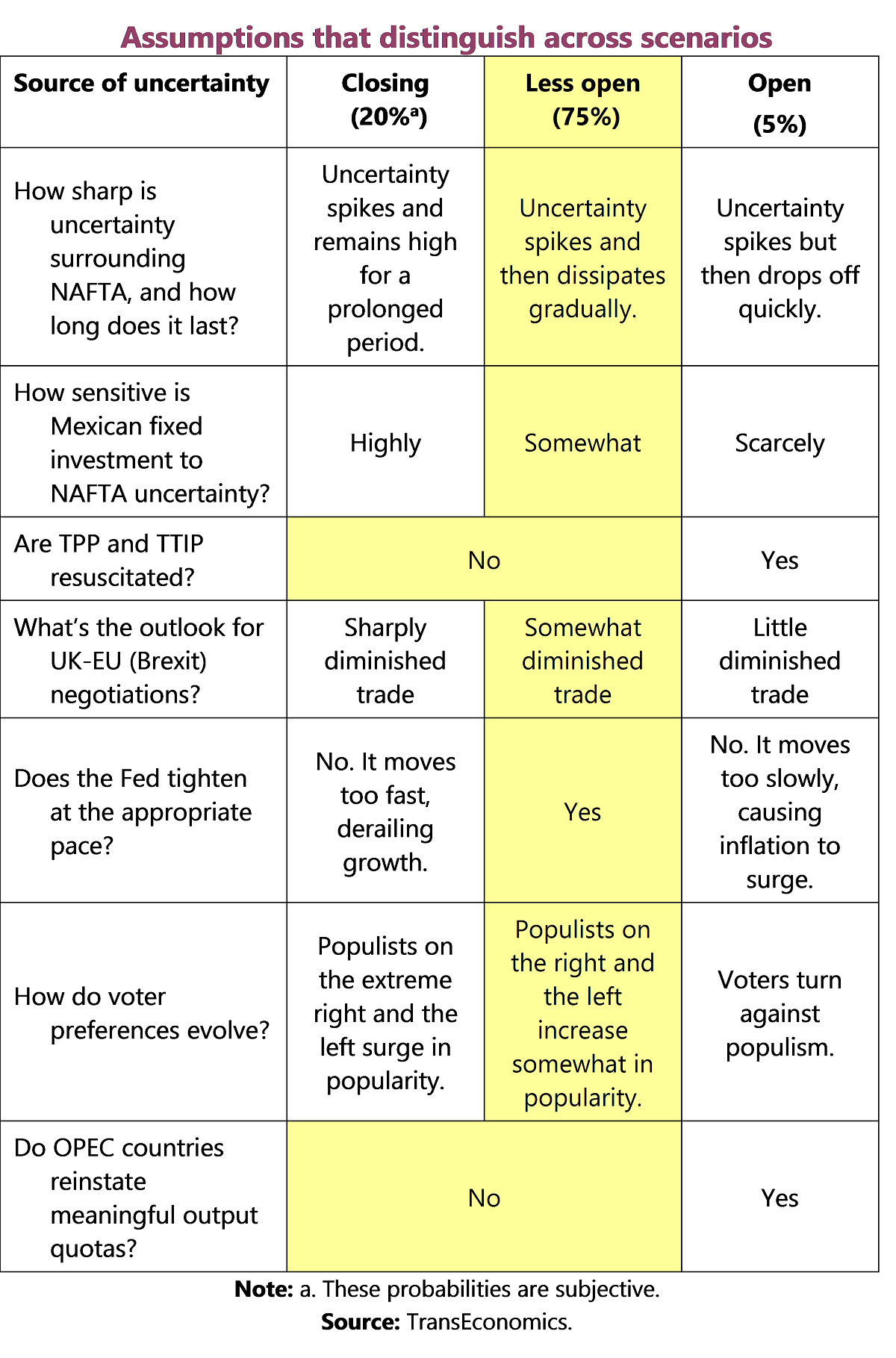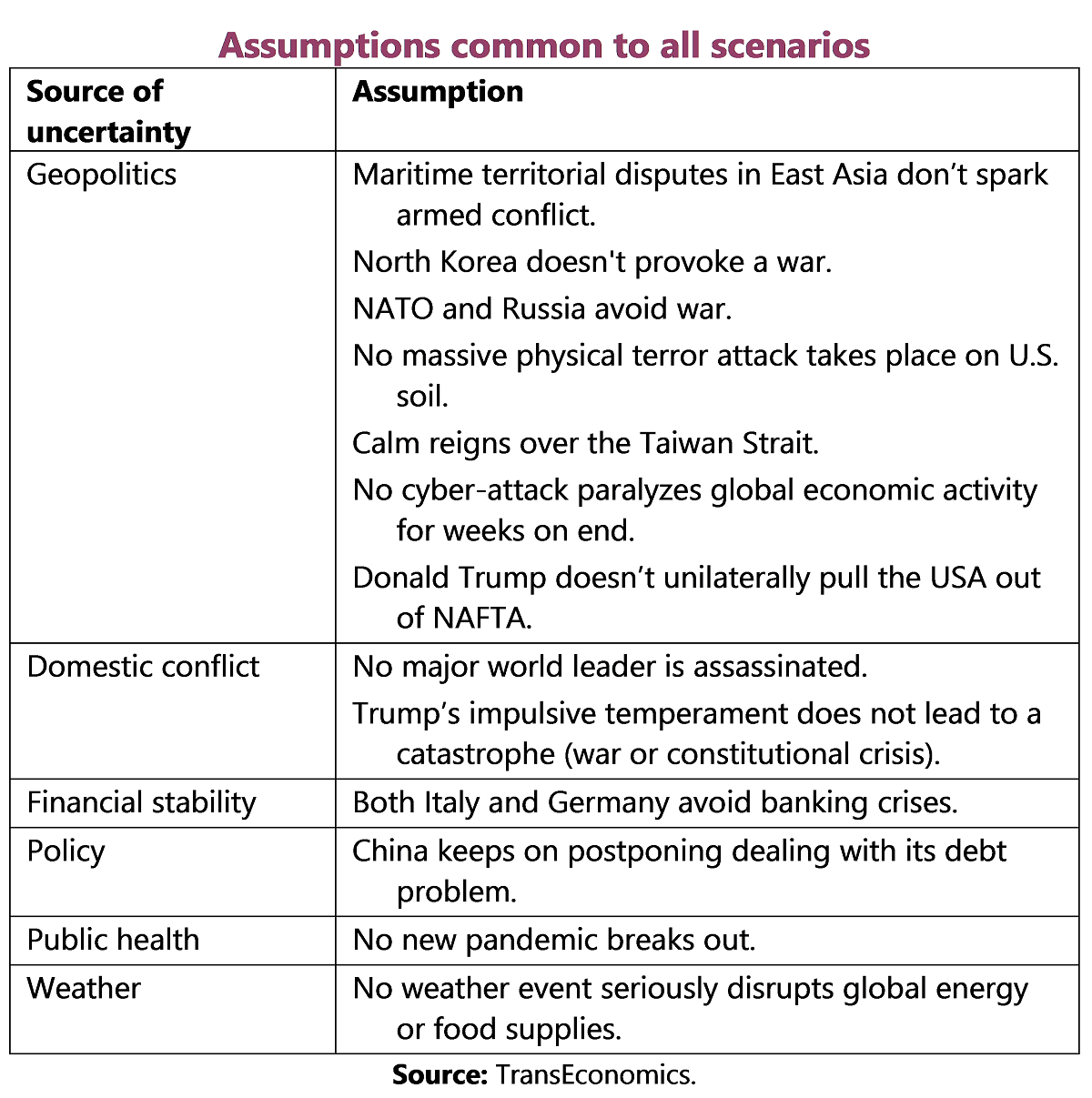 To zoom in on any of the following forecast tables, please click on the table.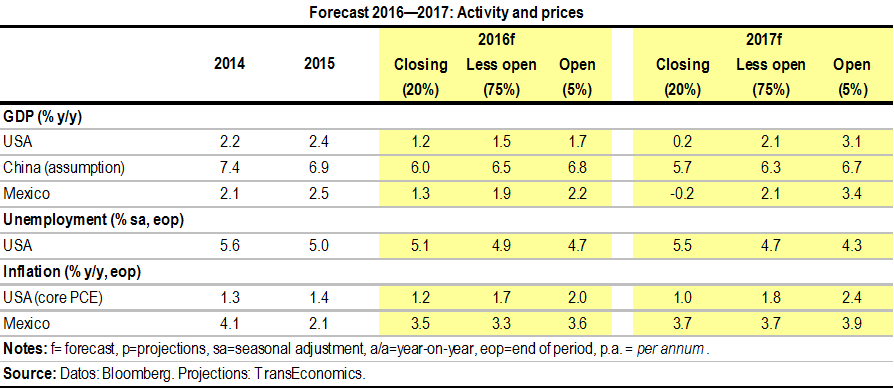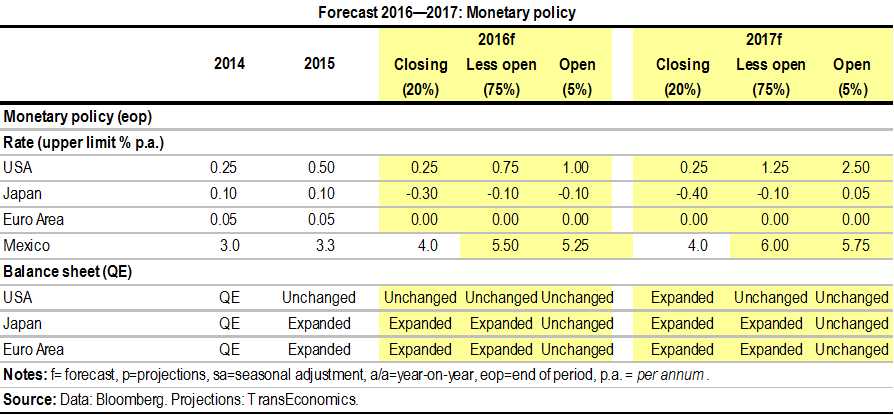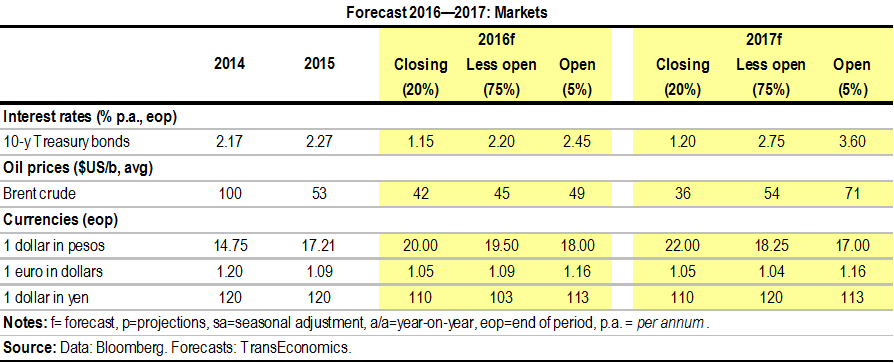 ---
Update History:
22 February 2017: Delete: We're going to expand this blog post in coming days with a more detailed narrative. Meanwhile, however, we wanted to quickly share the following tables to give you a snapshot of our new scenario assumptions and numbers.

Genevieve Signoret
18 oct 2016
Actualizamos nuestro pronóstico macro global bajo tres escenarios. Si bien conservan sus mismos supuestos, hemos dado a nuestros escenarios nuevos nombres. Ahora denominamos a nuestro escenario central Afinamiento, en referencia a los dos principales riesgos de mercado que nos amenazan hoy: primero, que la Fed no logre afinar su programa de normalización de políticas y que por lo tanto descarrile el crecimiento (al aumentar las tasas demasiado pronto) o desencadene alta inflación (al aumentar las tasas demasiado tarde); segundo, que las autoridades chinas no logren afinar sus esfuerzos por desinflar, de manera ordenada, la burbuja crediticia de su país, y que por ende conduzcan a China a una recesión inmediata (al avanzar demasiado abrupta y agresivamente para secar los flujos de crédito) o siembren las semillas de una crisis mayor a mediano plazo (al postergar demasiado los cambios necesarios).
En nuestro escenario central, damos por sentado que ambos riesgos se evitan. También damos por sentado que la implementación del Brexit y las repercusiones macromercado que cause, aunque desagradables, sean ordenadas. Donald Trump pierde la elección presidencial de EE UU. Italia y Alemania evitan la crisis bancaria. La demanda de los consumidores es solo moderadamente sensible a las variaciones del precio del petróleo. Y que cualquier acuerdo que la OPEC pueda establecer e implementar no logre impulsar los precios del crudo por más de una semana.
Bajo estos supuestos, la economía global continúa creciendo lentamente a pesar de que el comercio y la manufactura siguen casi planas, las tasas de inflación permanecen bajas, las tasas de interés apenas aumentan en EE UU y los mercados emergentes, mientras que permanecen en o bajo cero en Japón y Europa Occidental. El Banco Central Europeo y el Banco de Japón intensifican el relajamiento cuantitativo. El euro y el yen se deprecian frente al dólar estadounidense, mientras que el peso mexicano se aprecia. Los precios medios del petróleo aumentan pero levemente.  El mercado alcista continúa pero el nerviosismo legítimo por las altas valuaciones de la bolsa estadounidense junto con los discursos y las acciones de normalización de la Fed continúan fortaleciendo la demanda por acciones de mercados emergentes en relación con la demanda por acciones estadounidenses.
Le asignamos al escenario Afinamiento una probabilidad subjetiva de 75%.
Denominamos a nuestro escenario de riesgo a la baja Gatillo fácil (probabilidad=20%): la Fed y las autoridades chinas se mueven demasiado agresiva y rápidamente, causando una recesión global (5%) en 2017. Nuestro escenario de riesgo al alza se denomina Arrastre de pies: la Fed y las autoridades chinas posponen excesivamente cambios de política demasiado débiles, creando euforia a corto plazo pero sembrando las semillas de un brote inflacionario a mediano plazo en EE UU y recesión con crisis financiera en China. Por "mediano plazo" nos referimos a 2018 o después.
Resumimos estos supuestos de pronóstico y presentamos las cifras correspondientes en las siguientes tablas: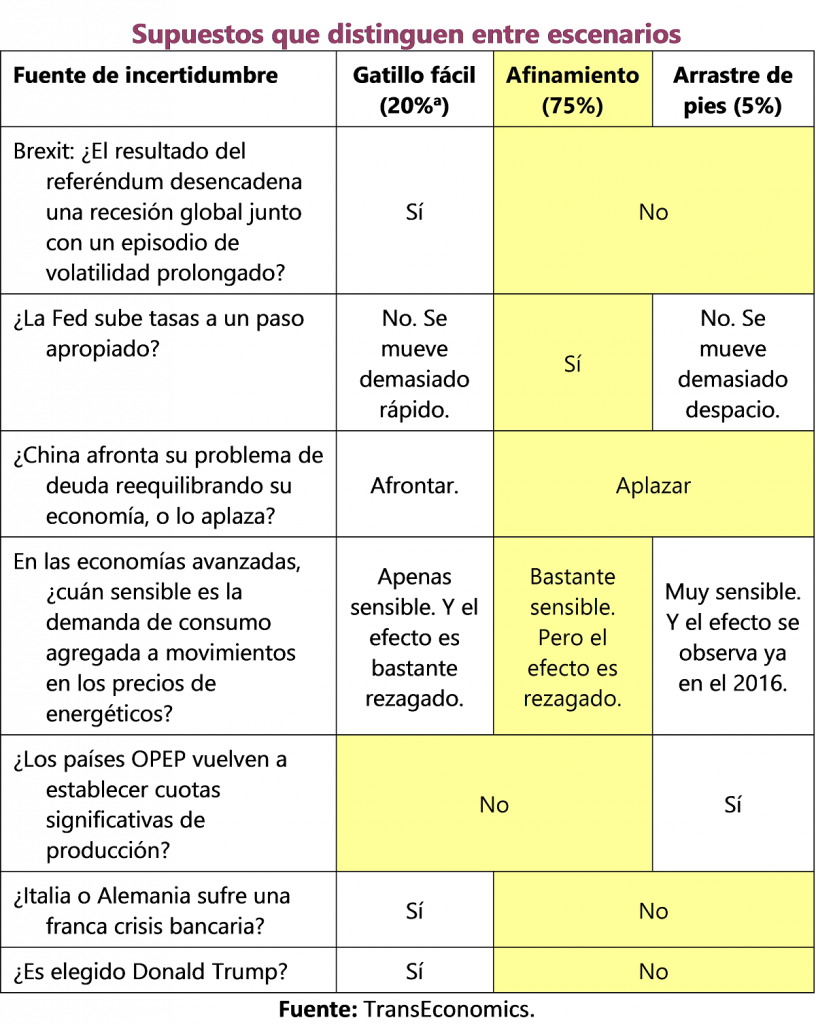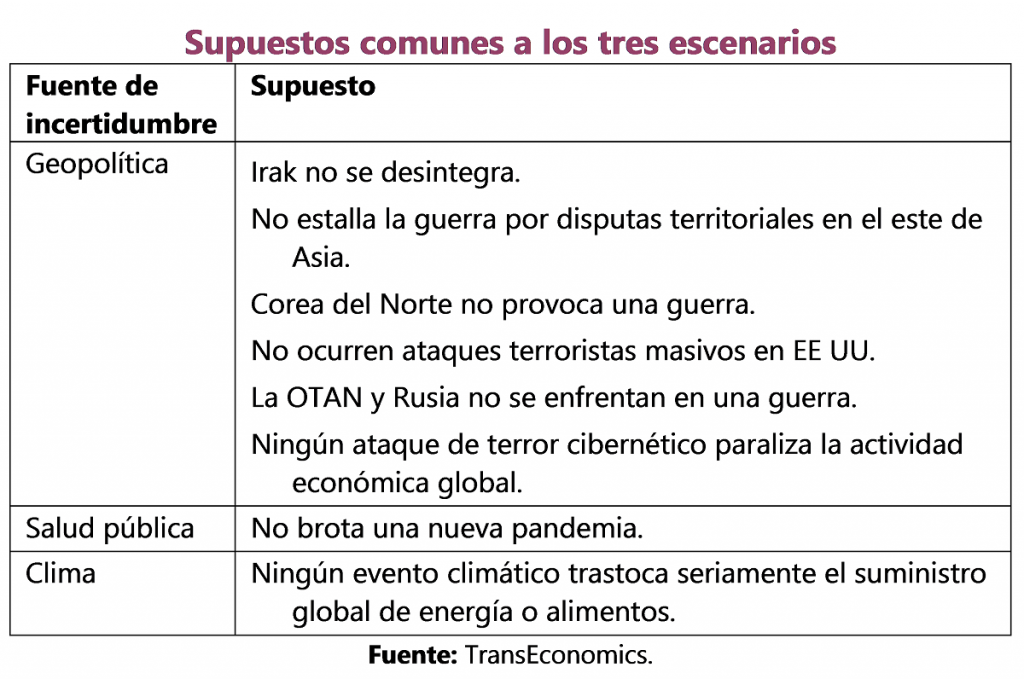 Para ampliar cualquiera de las siguientes tablas de pronóstico, haga clic en ella.




Genevieve Signoret
18 oct 2016
We update our global macro forecast under three scenarios. We hold to our forecast scenario assumptions but adopt new scenario names. We now called our central scenario Finesse in reference to the two greatest market risks looming today: first, that the Fed will fail to finesse its policy normalization program and hence either derail growth (by hiking rates too early) or set off high inflation (by hiking rates too late); second, that Chinese authorities will fail to finesse their efforts to deflate, in orderly fashion, China's credit bubble, and hence either move China into immediate recession (by moving too abruptly and too aggressively to dry up credit flows) or sow the seeds for a major crisis in the medium term (by kicking the can too far down the road).
In our central scenario, we assume that both risks are averted. We further assume that Brexit implementation and the macro-market fallout it causes, though unpleasant, are orderly. Donald Trump loses the U.S. presidential election. Italy and Germany avert banking crises. Consumer demand in advanced economies is only moderately sensitive to oil price movements. And any agreement that OPEC manages to reach and enforce gives no better than a weak boost to crude oil prices.
Under these assumptions, the global economy continues to grow slowly despite nearly flat trade and manufacturing, inflation rates remain low, interest rates barely move up in the USA and emerging markets while remaining at or below zero in Japan and Western Europe. The European Central Bank and the Bank of Japan step up quantitative easing. The euro and yen depreciate against the U.S. dollar, while the Mexican peso appreciates. Average oil prices increase just a bit.  The bull market continues but legitimate jitters over high U.S. stock market valuations along with Fed normalization talk and action continue to strengthen demand for emerging market stocks relative to demand for U.S. stocks.
We assign to Finesse a subjective probability of 75%.
Our downside risk scenario is called Trigger-Happy (probability=20%): the Fed and the Chinese authorities move too aggressively too fast, causing a global recession (5%) in 2017. Our upside risk scenario is called Foot Drag: the Fed and Chinese authorities postpone for too long policy moves too weak, building euphoria in the short run while sowing the seeds for a medium-term burst of inflation in the USA and recession with financial crisis in China. By "medium-term", we mean in 2018 or beyond.
We summarize these forecast assumptions and present our forecast numbers in the following tables: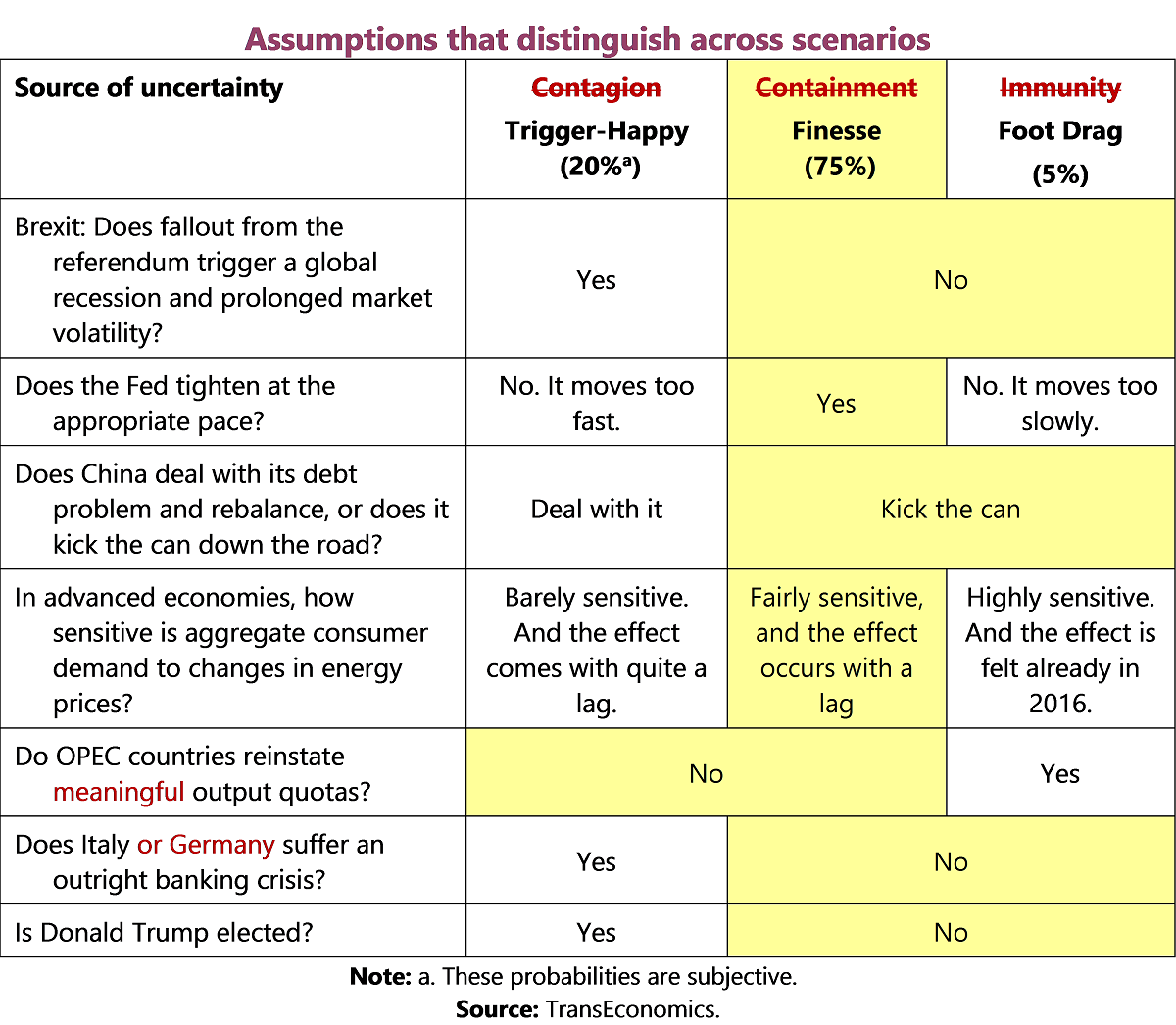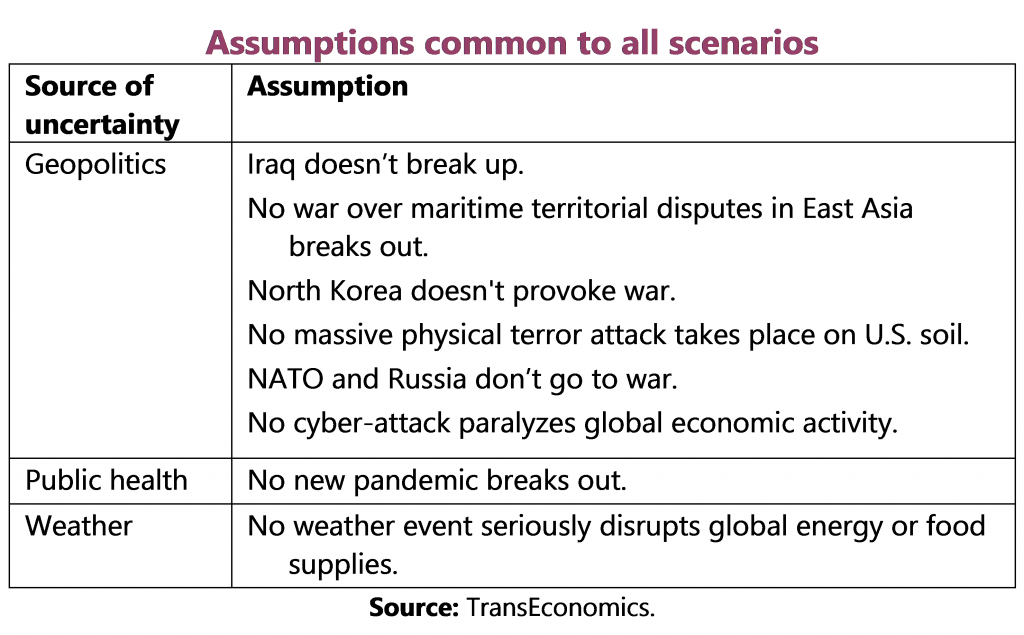 To zoom in on any of the following forecast tables, please click on the table.



Genevieve Signoret
12 jul 2016
Actualizamos nuestros escenarios macro y de mercados globales ahora que el Reino Unido ha optado por el Brexit. Nuestra perspectiva se ha tornado más sombría. Esta primera de dos entradas al respecto de Timón Económico muestra cómo han cambiado los nombres y los supuestos de nuestros escenarios y cómo las probabilidades subjetivas que asignamos a cada uno de ellos son ahora más pesimistas. En una siguiente entrega de Timón Económico publicaremos tablas y análisis de pronóstico actualizados.
A la luz del triunfo del 23 de junio en el Reino Unido de la opción por abandonar la Unión Europea, actualizamos nuestros escenarios macro y de mercados globales. La principal fuente de incertidumbre para los inversionistas globales era si la Fed sería capaz de aumentar gradualmente las tasas de interés sin, por un lado, hacerlo tan rápido que afectara la ya lenta expansión económica de EE UU y del mundo (el escenario de riesgo a la baja, llamado Recesión) o tan lento que generara inflación en EE UU (el escenario denominado Inflación). Habíamos considerado que la Fed probablemente tendría éxito y asignamos un confiado 75% de probabilidad subjetiva al escenario que, para evocar la presunción clave de éxito de la Fed, denominamos Bravo. Debido a la decisión británica de abandonar la Unión Europea, hemos rebajado nuestra perspectiva.
Los nuevos nombres de nuestros escenarios son Contagio (probabilidad subjetiva[1]=35%), Contención (60%) e Inmunidad (5%).  Se han formulado para resaltar lo que ahora vemos como la principal fuente de incertidumbre: cuánto resistirá el resto del mundo las repercusiones políticas, económicas y de mercado derivadas del triunfo del Brexit.
Tenga presente que las probabilidades que ahora asignamos a los escenarios son más sombrías que antes. Aumentamos la probabilidad subjetiva asignada a nuestro escenario pesimista del 15% al 35%, bajamos la probabilidad asignada a nuestro escenario central de crecimiento lento y baja inflación del 75% al 60%, y redujimos las de nuestro escenario de crecimiento e inflación rápidos del 10% al 5%.
Los cambios en los nombres de nuestros escenarios y supuestos aparecen a continuación como enmiendas en nuestra tabla de supuestos: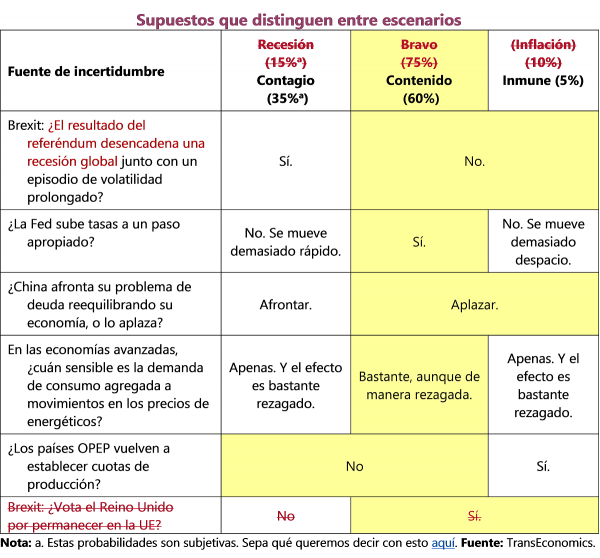 Estos son los que llamamos "supuestos principales del pronóstico"[2]; los que permiten distinguir los diferentes escenarios. Los supuestos que sustentan los tres escenarios (que, reformulados, definen una lista de lo que vemos como riesgos colaterales), permanecen inalterados: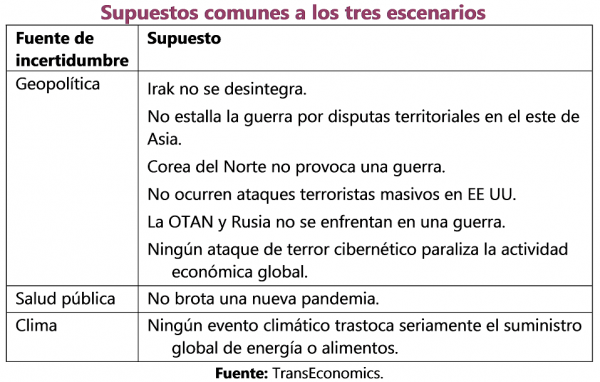 Antes de terminar, les recordamos que siempre pueden encontrar nuestros supuestos de escenario a la mano aquí.
[1] Estas probabilidades son subjetivas. Sepa qué queremos decir con esto aquí.
[2] Lea (en español) sobre nuestro enfoque basado en escenarios para los pronósticos macro y de mercados aquí.
Genevieve Signoret
11 jul 2016
We update global macro-market scenarios now that UK voters have opted for Brexit. Our outlook is now bleaker. This first Timón entry of two on this topic shows how our scenarios names and assumptions have shifted and the subjective probabilities we assign to each one are now more pessimistic than before. In a subsequent Timón installment, we'll provide updated forecast tables and narratives.
In light of the UK's June 23 vote to exit the European Union, we update our global macro-market scenarios. The chief source of uncertainty for global investors had been whether the Fed could gradually raise interest rates without, on the one hand, moving so fast as to derail an already slow U.S. and global economic expansion (the downside risk scenario, called Recession) or move so slowly that inflation took off in the USA (a scenario we dubbed Inflation). We judged that the Fed probably would succeed and assigned a confident 75% subjective probability to that scenario, which, to evoke its key assumption of Fed success, we called Bravo. With the British vote to exit the European Union, we now downgrade out outlook.
Our new scenario names are Contagion (subjective probability[1]=35%), Containment (60%) and Immunity (5%). They've been formulated to underscore what we now see as the largest source of uncertainty—how resilient the rest of the world will prove to the political, economic, and market fallout from the Brexit vote.
Note that the probabilities we now assign across scenarios are darker than before. We lift the subjective probability assigned to our pessimistic scenario all the way to 35% from 15%, degrade the probability placed on our slow-growth, low-inflation central scenario to 60% from 75%, and lower the odds of our fast-growth, fast-inflation scenario to 5% from 10%.
These changes to our scenario names and assumptions are shown as revisions to our assumptions table that follows: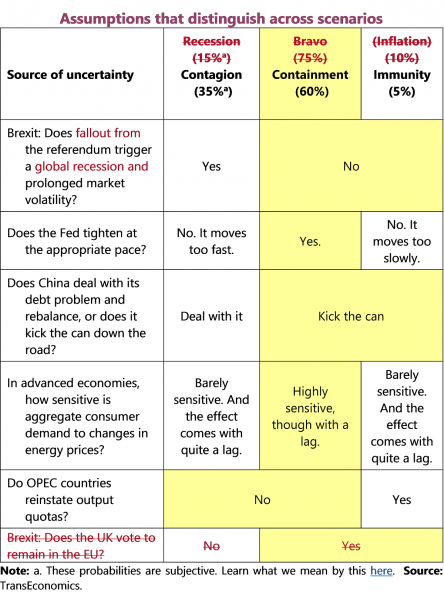 These are what we call "pivotal forecast assumptions"[2]—the ones that distinguish across scenarios. Our assumptions underlying all three scenarios (which, rephrased, compose a list of what we see as tail risks), remain unchanged: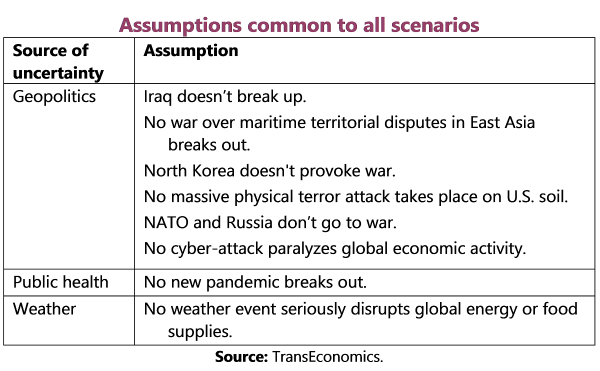 Before we close, we remind you that you can always find our scenario assumptions handy here.
[1]These probabilities are subjective. Learn what we mean by this here.
[2] Read (in Spanish) about our scenario-based approach to macro and market forecasting here.
Genevieve Signoret
17 feb 2016
Resumen
Ningún experto que he consultado ve probable que el acuerdo resulte en una recuperación significativa del precio internacional de petróleo crudo. Es decir, la reacción inicial de JPMorgan está en sintonía con las reacciones del consenso.
Como caso ilustrativo, la reacción general de Barclays coincide con la de JPMorgan.
En lo personal:
Veo cualquier acuerdo entre Arabia Saudita y Rusia como necesariamente frágil dado el apoyo militar que brinda Putin a Bashar al-Ásad en la guerra civil de Siria.
No obstante este acuerdo preliminar, mi incertidumbre en cuanto a cualquier pronóstico del precio de petróleo sigue estratosférica; se trata de un mercado sumamente complejo e impredecible en el que todo es posible.
Antecedentes
Tras una reunión no programada en Doha, los ministros de petróleo de Arabia Saudita, Venezuela, Qatar y Rusia anunciaron que congelarían su producción de petróleo crudo a niveles de enero 2016. Su acuerdo queda supeditado a la cooperación de otros productores.
Qué dice Barclays
Resumen:
Cualquier mejora de precio que pudiese resultar de este acuerdo sería mínima.
Es poco probable que se convenza a otros productores clave como Irán e Iraq que cooperen.
Y aunque ello se lograra, el efecto sería transitorio: el ajuste alcista en el precio incentivaría más producción en EE UU de aquellos productores de esquisto (shale) que operan cerca de sus puntos de equilibrio.
Detalle:
Antes de este anuncio, para la producción de Rusia, Qatar y Venezuela, ya se proyectaba cero cambio o reducción. Ninguno tiene holgura que explotar. La producción rusa está cerca de máximos históricos para la época postsoviética.  Qatar y Venezuela luchan con tendencias de declive.
Irán recién se libera de sanciones internacionales por su programa de enriquecimiento de uranio. Aunque ya ha incrementado sus exportaciones, permanecen aún inferiores en un millón de b/d al nivel anterior a las sanciones. Sus líderes han expresado claramente que verían injusta cualquier sugerencia de que exportaran menos de ese nivel.
La producción de Iraq crece viento en popa.
Sin embargo, el acuerdo es significativo, ya que marca la primera vez desde noviembre 2014 que Arabia Saudita relaja su oposición férrea a restringir producción.
Mi propia perspectiva
Me persuaden los expertos citados y los demás consultados: el acuerdo difícilmente detonará una recuperación en el precio del crudo.
A los comentarios de dichos expertos sólo añadiría dos cosas:
Considero cualquier acuerdo entre Arabia Saudita y Rusia frágil dado el apoyo militar que brinda Moscú en la guerra civil siria al enemigo de Arabia Saudita, Bashar al-Ásad.
Mi incertidumbre permanece estratosférica. Nuestra experiencia del último año nos confirma que, en este mercado sumamente complejo e impredecible, todo es posible.
---
Update History:
17 febrero 2016: Ayer, 16 de febrero, los analistas Miswin Nahesh y Kevin Norrish publicaron "OPEC output agreements: Still between a rock and a hard place". Compartimos su perspectiva.