Genevieve Signoret & Alejandro Carrión
23 mar 2017
Resumen
En EE UU, dos indicadores tradicionales del mercado laboral sugieren pleno empleo. Sin embargo, otros hablan de holgura. Entre estos, uno merece un comentario especial.
En EE UU dos indicadores tradicionales del mercado laboral sugieren pleno empleo
Como se aprecia en las siguientes dos gráficas de EE UU, la de solicitudes de compensación por desempleo y la de la tasa de desempleo, el mercado laboral está cerca de alcanzar pleno empleo:
Holgura que pudiera persistir en el mercado laboral de EE UU no se manifiesta en las solicitudes de seguro por desempleo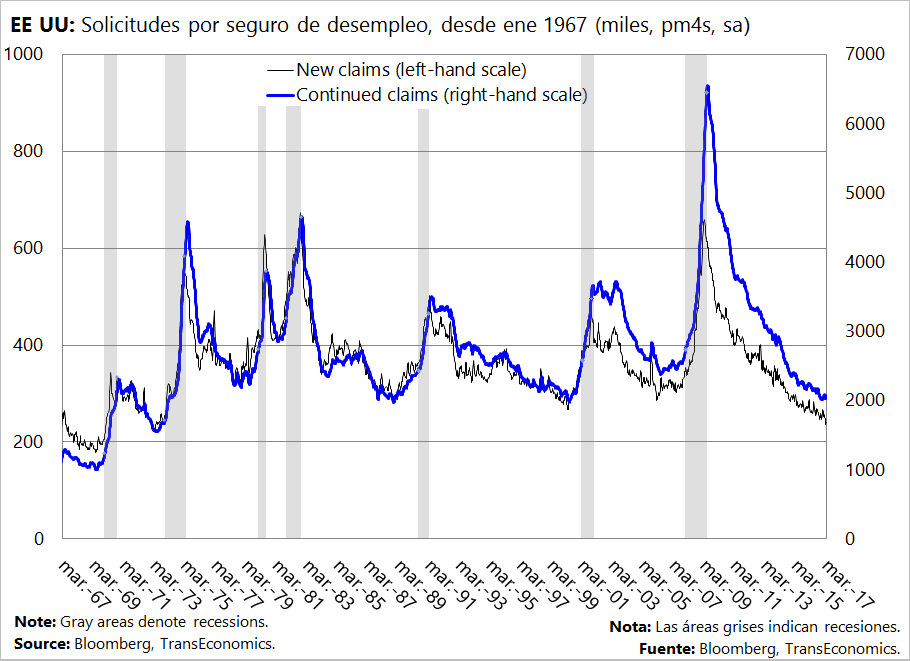 Si hay holgura, tampoco se indica en la tasa de desempleo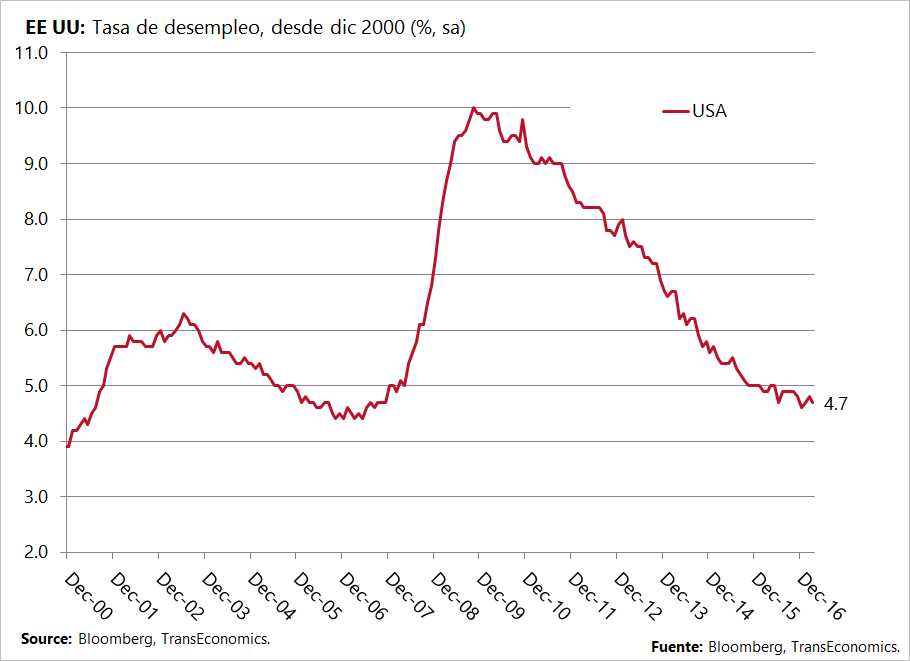 Sin embargo, otros hablan de holgura
No obstante los indicios de pleno empleo mencionados, la Reserva Federal aún no canta victoria. Y es que otros indicadores menos conocidos no han regresado a su nivel pre crisis todavía. Su rezago se aprecia en la siguiente gráfica estilo telarañas de la Reserva Federal de Atlanta:
Algunos indicadores del mercado laboral en EE UU aún no regresan a su nivel pre crisis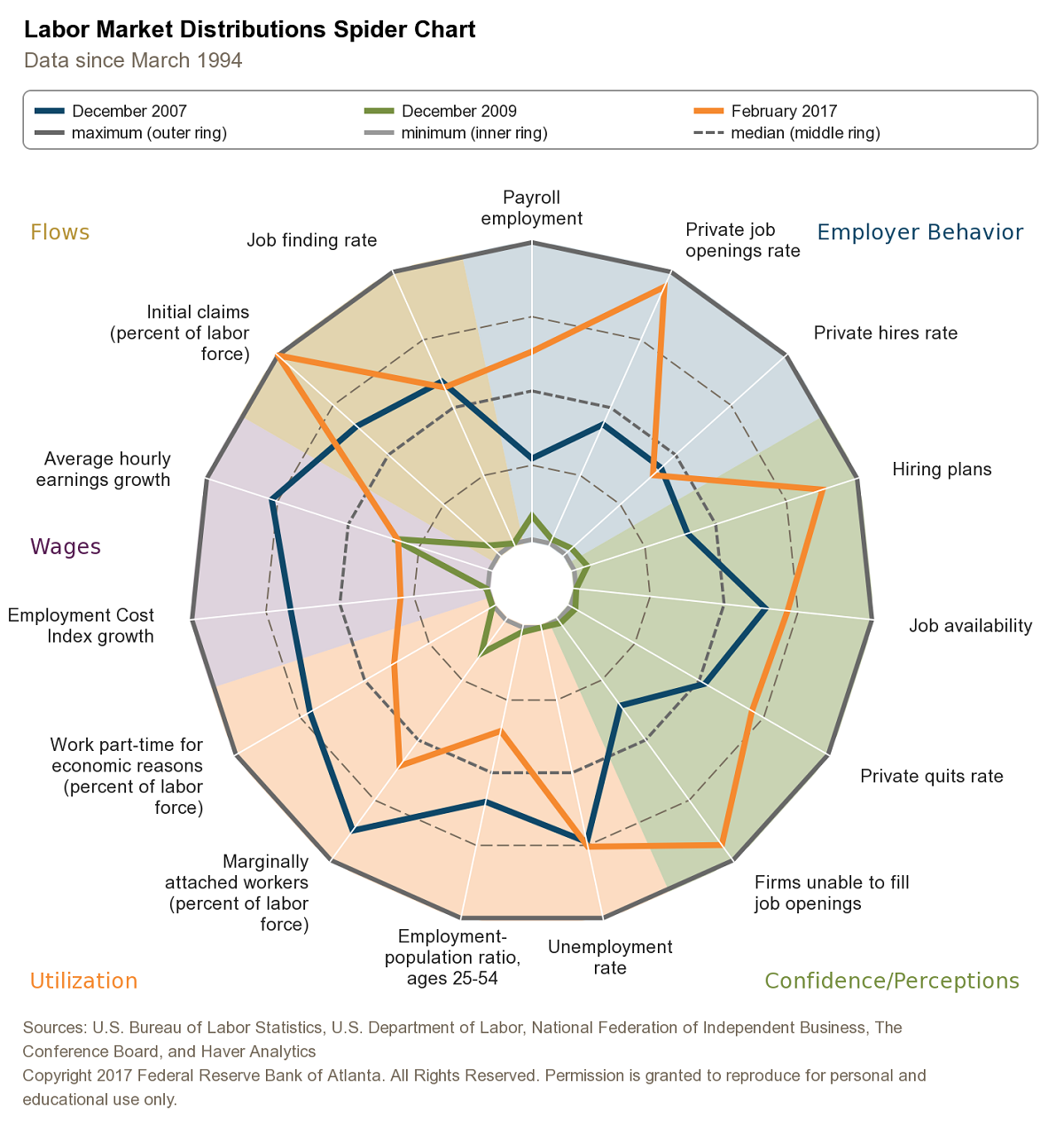 Fuente:Reserva Federal Atlanta.
En particular, la gráfica muestra que no han regresado aún a su nivel pre crisis los siguientes indicadores: la tasa de crecimiento de compensación laboral por hora (average hourly earnings growth); la proporción de la fuerza laboral que trabaja de tiempo parcial "por razones económicas" (work part-time for economic reasons –gente que quisiera pero no encuentra empleo de tiempo completo por lo que se conforma con tiempo parcial); trabajadores al margen de la fuerza laboral (marginally attached workers –gente que desea trabajar y de hecho buscó empleo en los últimos 12 meses pero, como se desanimó y dejó de buscar trabajo, ya no es considerada desempleada); la tasa de crecimiento en el costo unitario laboral (Employment Cost Index growth); y la relación empleo-población (employment population ratio ages 25–54).
Entre estos, uno merece un comentario especial
Uno de los indicadores mencionados en el párrafo justo precedente, la de la tasa de crecimiento en el costo unitario laboral, merece un comentario especial: mientras este costo no se acelere de manera apreciable, el mercado laboral no puede considerarse fuente de presión inflacionaria. Por lo tanto, el rezago en este costo ayuda a explicar por qué la Reserva Federal mantiene una postura todavía tan acomodaticia.
Porque recuerden: la Fed estará removiendo estímulo, pero está lejos aún de adoptar una postura restrictiva.
Genevieve Signoret
18 nov 2016
In light of Donald Trump's surprise electoral victory on November 8, we have started from scratch and built three new global macro forecast scenarios.
Our central scenario is now called Less open in reference to its main assumption, that of rising protectionism.
Our downside risk scenario is called Closing. In that scenario, the global wave of protectionism we're seeing already, with the UK referendum on Brexit, Trump's election in the USA, and a stalling of other free trade agreements still under negotiation, turns out even worse than expected today.
Our upside scenario is called Open. It assumes that trade talks lead to more, not less, open borders than we're anticipating today.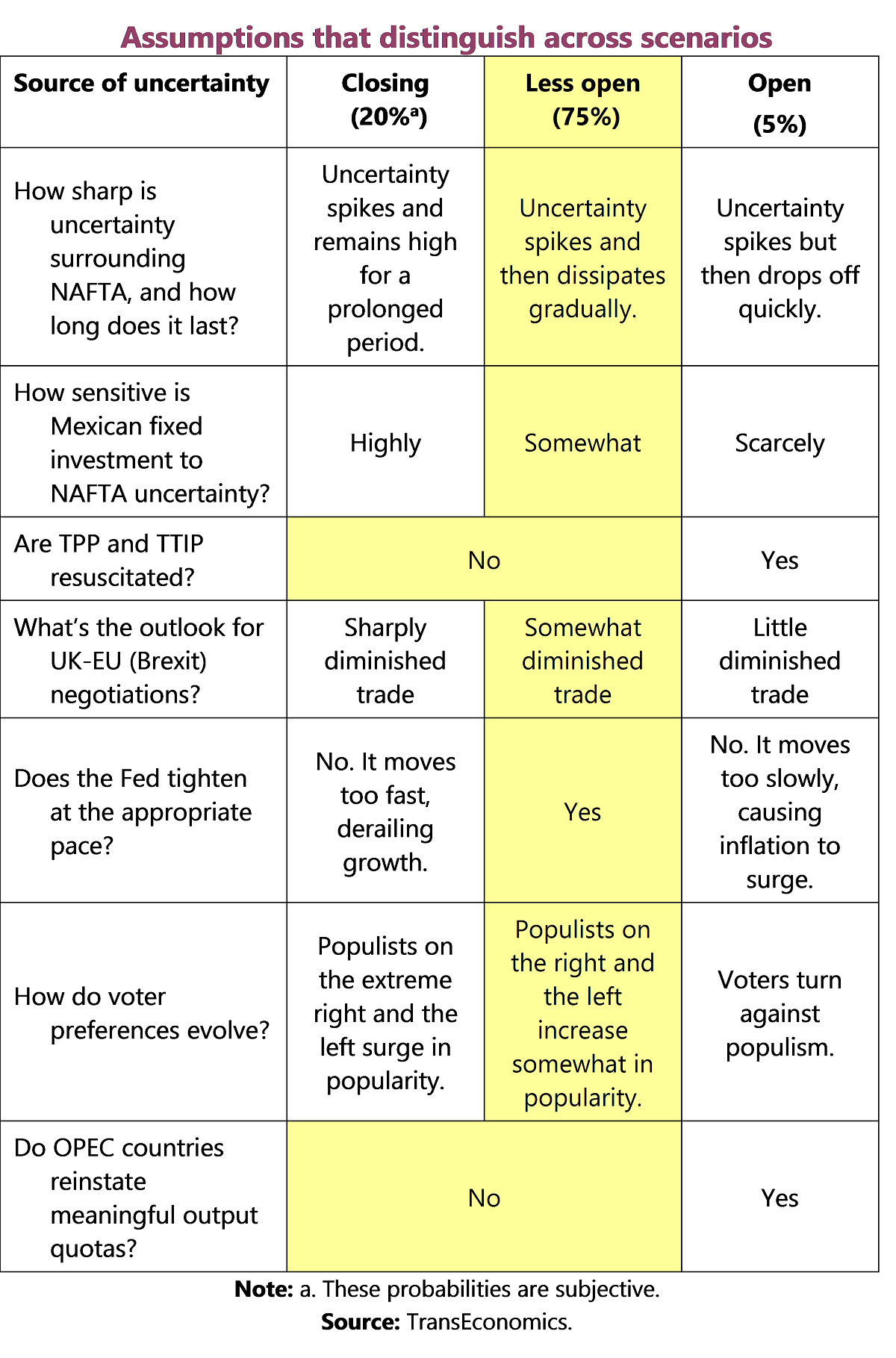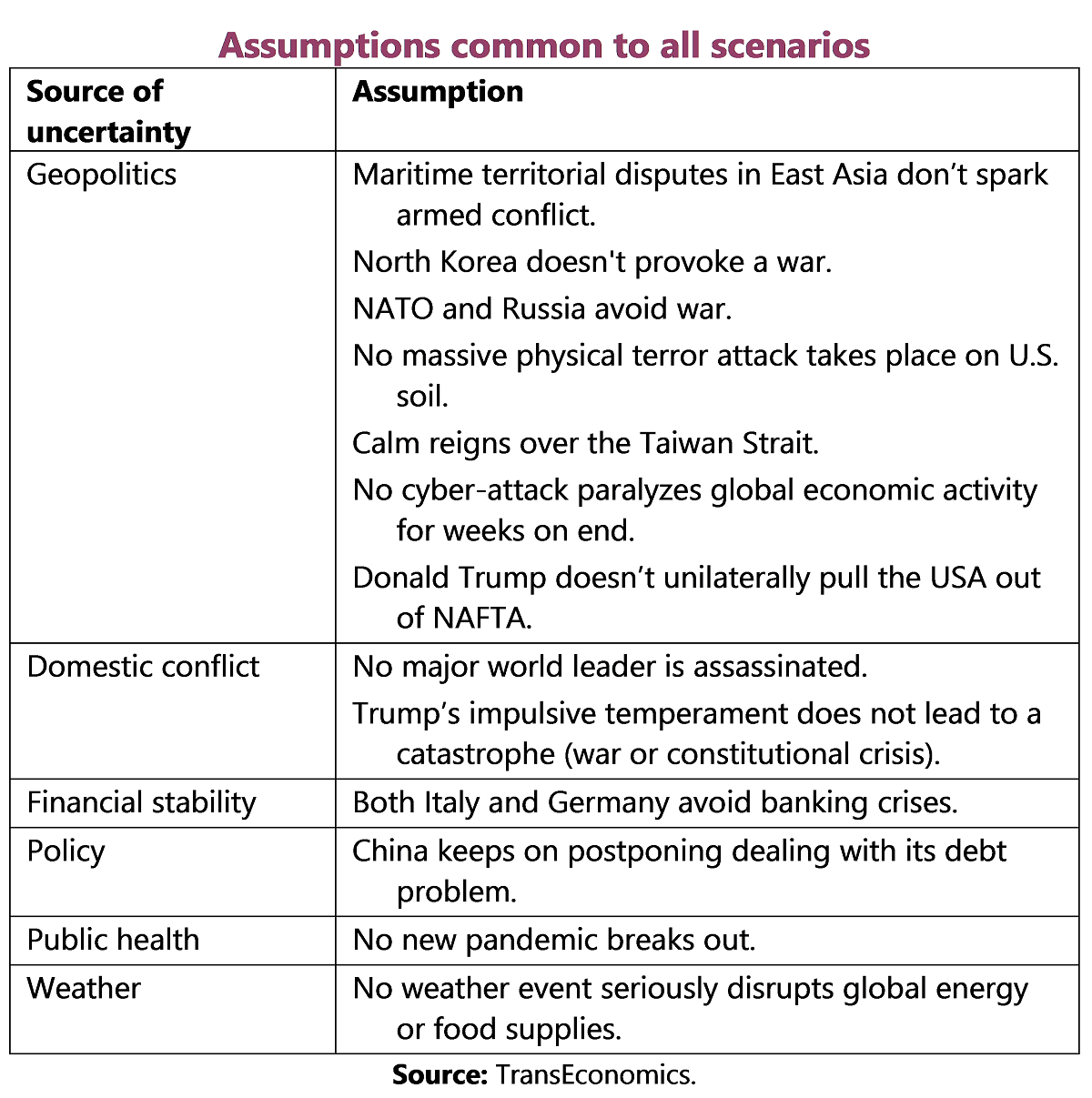 To zoom in on any of the following forecast tables, please click on the table.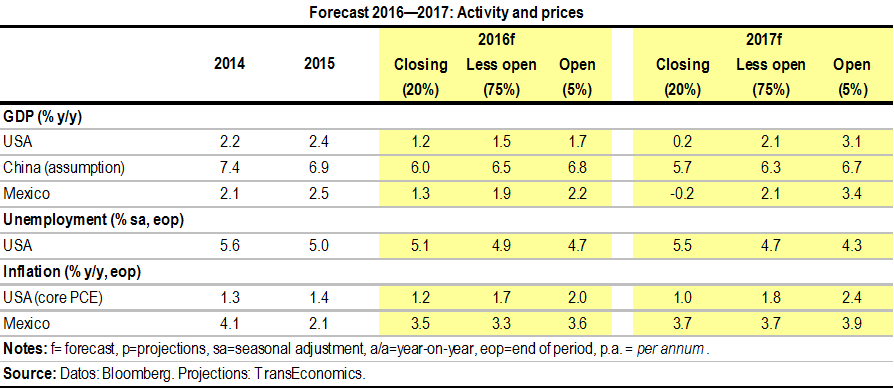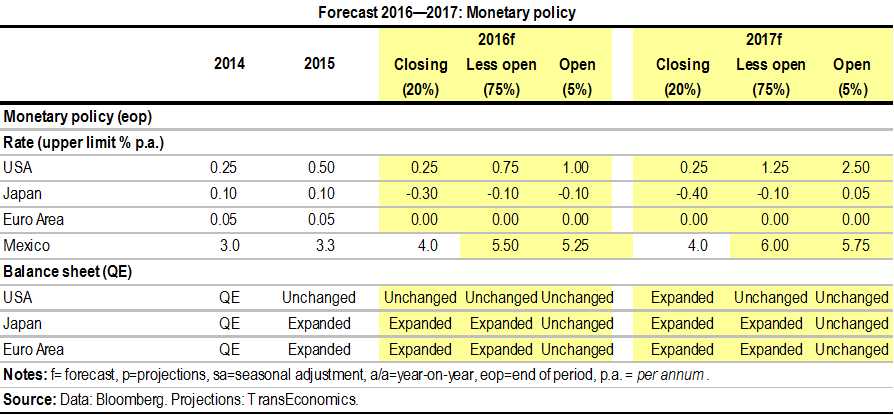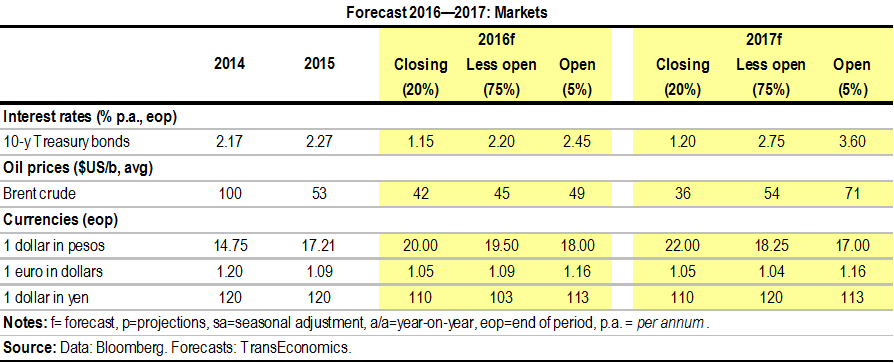 ---
Update History:
22 February 2017: Delete: We're going to expand this blog post in coming days with a more detailed narrative. Meanwhile, however, we wanted to quickly share the following tables to give you a snapshot of our new scenario assumptions and numbers.

Genevieve Signoret
18 oct 2016
Actualizamos nuestro pronóstico macro global bajo tres escenarios. Si bien conservan sus mismos supuestos, hemos dado a nuestros escenarios nuevos nombres. Ahora denominamos a nuestro escenario central Afinamiento, en referencia a los dos principales riesgos de mercado que nos amenazan hoy: primero, que la Fed no logre afinar su programa de normalización de políticas y que por lo tanto descarrile el crecimiento (al aumentar las tasas demasiado pronto) o desencadene alta inflación (al aumentar las tasas demasiado tarde); segundo, que las autoridades chinas no logren afinar sus esfuerzos por desinflar, de manera ordenada, la burbuja crediticia de su país, y que por ende conduzcan a China a una recesión inmediata (al avanzar demasiado abrupta y agresivamente para secar los flujos de crédito) o siembren las semillas de una crisis mayor a mediano plazo (al postergar demasiado los cambios necesarios).
En nuestro escenario central, damos por sentado que ambos riesgos se evitan. También damos por sentado que la implementación del Brexit y las repercusiones macromercado que cause, aunque desagradables, sean ordenadas. Donald Trump pierde la elección presidencial de EE UU. Italia y Alemania evitan la crisis bancaria. La demanda de los consumidores es solo moderadamente sensible a las variaciones del precio del petróleo. Y que cualquier acuerdo que la OPEC pueda establecer e implementar no logre impulsar los precios del crudo por más de una semana.
Bajo estos supuestos, la economía global continúa creciendo lentamente a pesar de que el comercio y la manufactura siguen casi planas, las tasas de inflación permanecen bajas, las tasas de interés apenas aumentan en EE UU y los mercados emergentes, mientras que permanecen en o bajo cero en Japón y Europa Occidental. El Banco Central Europeo y el Banco de Japón intensifican el relajamiento cuantitativo. El euro y el yen se deprecian frente al dólar estadounidense, mientras que el peso mexicano se aprecia. Los precios medios del petróleo aumentan pero levemente.  El mercado alcista continúa pero el nerviosismo legítimo por las altas valuaciones de la bolsa estadounidense junto con los discursos y las acciones de normalización de la Fed continúan fortaleciendo la demanda por acciones de mercados emergentes en relación con la demanda por acciones estadounidenses.
Le asignamos al escenario Afinamiento una probabilidad subjetiva de 75%.
Denominamos a nuestro escenario de riesgo a la baja Gatillo fácil (probabilidad=20%): la Fed y las autoridades chinas se mueven demasiado agresiva y rápidamente, causando una recesión global (5%) en 2017. Nuestro escenario de riesgo al alza se denomina Arrastre de pies: la Fed y las autoridades chinas posponen excesivamente cambios de política demasiado débiles, creando euforia a corto plazo pero sembrando las semillas de un brote inflacionario a mediano plazo en EE UU y recesión con crisis financiera en China. Por "mediano plazo" nos referimos a 2018 o después.
Resumimos estos supuestos de pronóstico y presentamos las cifras correspondientes en las siguientes tablas: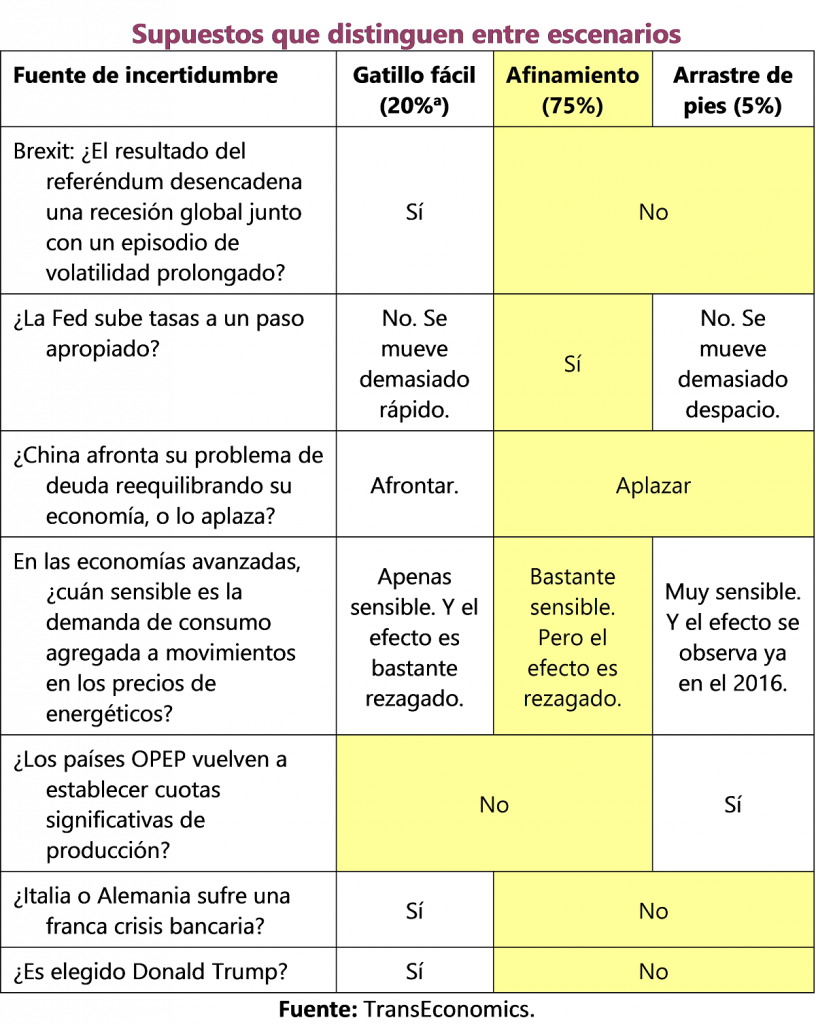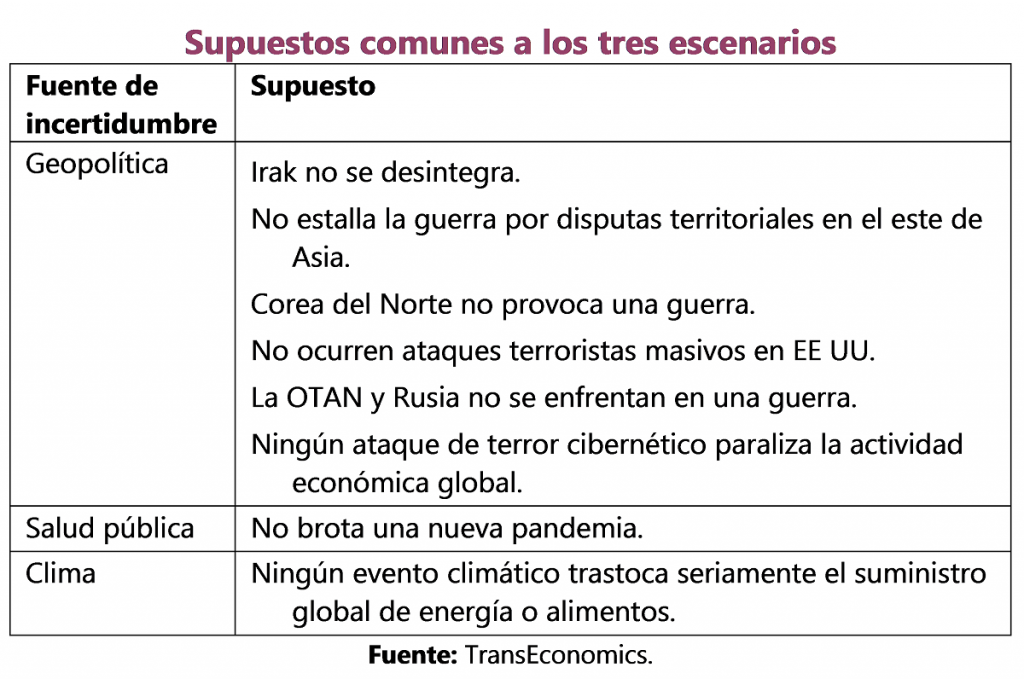 Para ampliar cualquiera de las siguientes tablas de pronóstico, haga clic en ella.




Genevieve Signoret
18 oct 2016
We update our global macro forecast under three scenarios. We hold to our forecast scenario assumptions but adopt new scenario names. We now called our central scenario Finesse in reference to the two greatest market risks looming today: first, that the Fed will fail to finesse its policy normalization program and hence either derail growth (by hiking rates too early) or set off high inflation (by hiking rates too late); second, that Chinese authorities will fail to finesse their efforts to deflate, in orderly fashion, China's credit bubble, and hence either move China into immediate recession (by moving too abruptly and too aggressively to dry up credit flows) or sow the seeds for a major crisis in the medium term (by kicking the can too far down the road).
In our central scenario, we assume that both risks are averted. We further assume that Brexit implementation and the macro-market fallout it causes, though unpleasant, are orderly. Donald Trump loses the U.S. presidential election. Italy and Germany avert banking crises. Consumer demand in advanced economies is only moderately sensitive to oil price movements. And any agreement that OPEC manages to reach and enforce gives no better than a weak boost to crude oil prices.
Under these assumptions, the global economy continues to grow slowly despite nearly flat trade and manufacturing, inflation rates remain low, interest rates barely move up in the USA and emerging markets while remaining at or below zero in Japan and Western Europe. The European Central Bank and the Bank of Japan step up quantitative easing. The euro and yen depreciate against the U.S. dollar, while the Mexican peso appreciates. Average oil prices increase just a bit.  The bull market continues but legitimate jitters over high U.S. stock market valuations along with Fed normalization talk and action continue to strengthen demand for emerging market stocks relative to demand for U.S. stocks.
We assign to Finesse a subjective probability of 75%.
Our downside risk scenario is called Trigger-Happy (probability=20%): the Fed and the Chinese authorities move too aggressively too fast, causing a global recession (5%) in 2017. Our upside risk scenario is called Foot Drag: the Fed and Chinese authorities postpone for too long policy moves too weak, building euphoria in the short run while sowing the seeds for a medium-term burst of inflation in the USA and recession with financial crisis in China. By "medium-term", we mean in 2018 or beyond.
We summarize these forecast assumptions and present our forecast numbers in the following tables: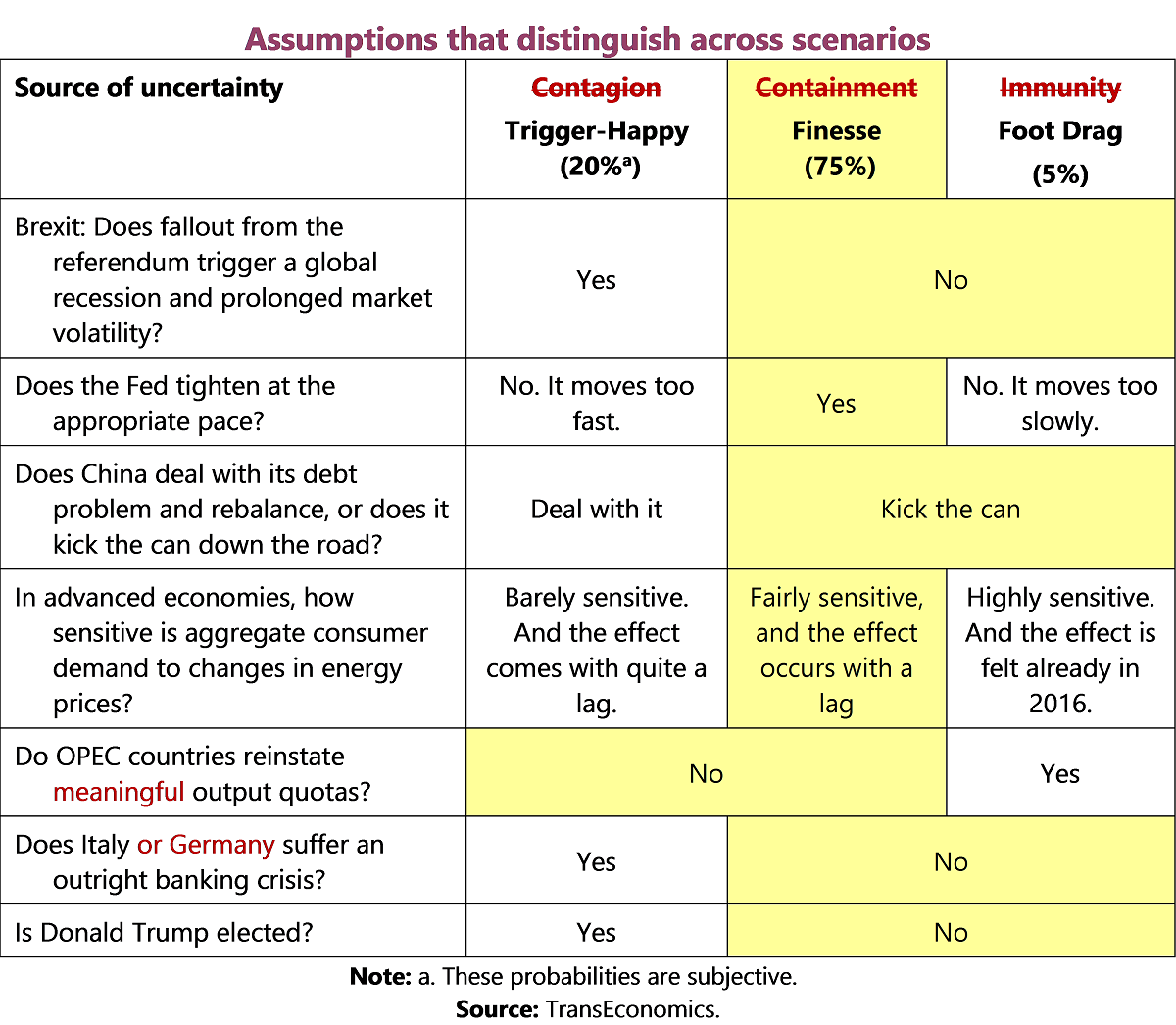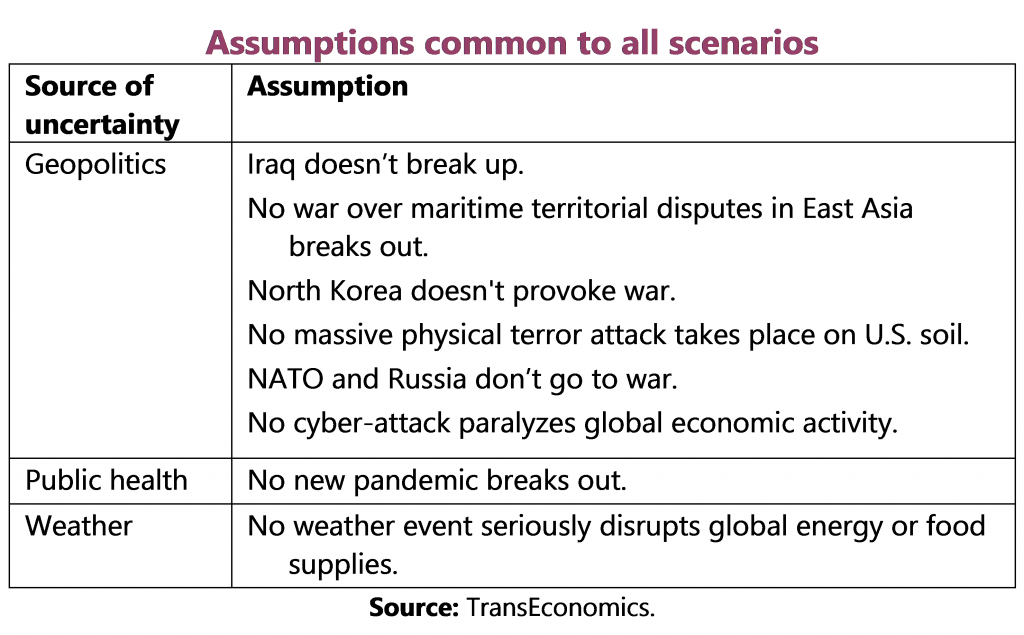 To zoom in on any of the following forecast tables, please click on the table.



Genevieve Signoret
12 jul 2016
Actualizamos nuestros escenarios macro y de mercados globales ahora que el Reino Unido ha optado por el Brexit. Nuestra perspectiva se ha tornado más sombría. Esta primera de dos entradas al respecto de Timón Económico muestra cómo han cambiado los nombres y los supuestos de nuestros escenarios y cómo las probabilidades subjetivas que asignamos a cada uno de ellos son ahora más pesimistas. En una siguiente entrega de Timón Económico publicaremos tablas y análisis de pronóstico actualizados.
A la luz del triunfo del 23 de junio en el Reino Unido de la opción por abandonar la Unión Europea, actualizamos nuestros escenarios macro y de mercados globales. La principal fuente de incertidumbre para los inversionistas globales era si la Fed sería capaz de aumentar gradualmente las tasas de interés sin, por un lado, hacerlo tan rápido que afectara la ya lenta expansión económica de EE UU y del mundo (el escenario de riesgo a la baja, llamado Recesión) o tan lento que generara inflación en EE UU (el escenario denominado Inflación). Habíamos considerado que la Fed probablemente tendría éxito y asignamos un confiado 75% de probabilidad subjetiva al escenario que, para evocar la presunción clave de éxito de la Fed, denominamos Bravo. Debido a la decisión británica de abandonar la Unión Europea, hemos rebajado nuestra perspectiva.
Los nuevos nombres de nuestros escenarios son Contagio (probabilidad subjetiva[1]=35%), Contención (60%) e Inmunidad (5%).  Se han formulado para resaltar lo que ahora vemos como la principal fuente de incertidumbre: cuánto resistirá el resto del mundo las repercusiones políticas, económicas y de mercado derivadas del triunfo del Brexit.
Tenga presente que las probabilidades que ahora asignamos a los escenarios son más sombrías que antes. Aumentamos la probabilidad subjetiva asignada a nuestro escenario pesimista del 15% al 35%, bajamos la probabilidad asignada a nuestro escenario central de crecimiento lento y baja inflación del 75% al 60%, y redujimos las de nuestro escenario de crecimiento e inflación rápidos del 10% al 5%.
Los cambios en los nombres de nuestros escenarios y supuestos aparecen a continuación como enmiendas en nuestra tabla de supuestos: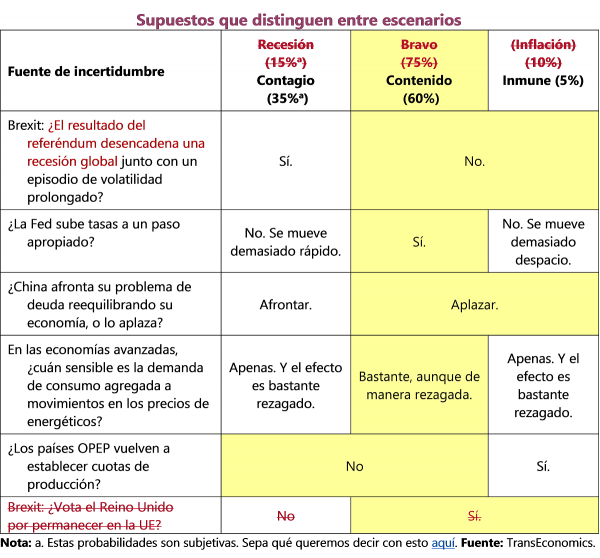 Estos son los que llamamos "supuestos principales del pronóstico"[2]; los que permiten distinguir los diferentes escenarios. Los supuestos que sustentan los tres escenarios (que, reformulados, definen una lista de lo que vemos como riesgos colaterales), permanecen inalterados: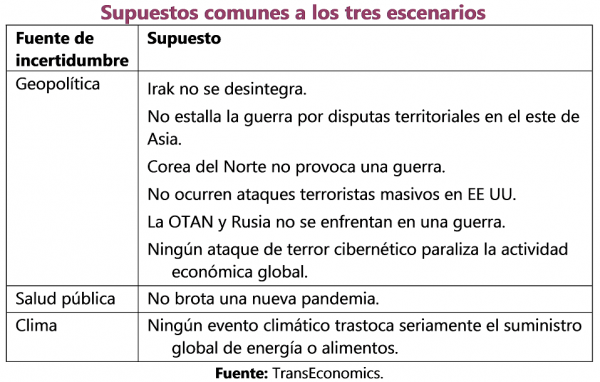 Antes de terminar, les recordamos que siempre pueden encontrar nuestros supuestos de escenario a la mano aquí.
[1] Estas probabilidades son subjetivas. Sepa qué queremos decir con esto aquí.
[2] Lea (en español) sobre nuestro enfoque basado en escenarios para los pronósticos macro y de mercados aquí.
Genevieve Signoret
11 jul 2016
We update global macro-market scenarios now that UK voters have opted for Brexit. Our outlook is now bleaker. This first Timón entry of two on this topic shows how our scenarios names and assumptions have shifted and the subjective probabilities we assign to each one are now more pessimistic than before. In a subsequent Timón installment, we'll provide updated forecast tables and narratives.
In light of the UK's June 23 vote to exit the European Union, we update our global macro-market scenarios. The chief source of uncertainty for global investors had been whether the Fed could gradually raise interest rates without, on the one hand, moving so fast as to derail an already slow U.S. and global economic expansion (the downside risk scenario, called Recession) or move so slowly that inflation took off in the USA (a scenario we dubbed Inflation). We judged that the Fed probably would succeed and assigned a confident 75% subjective probability to that scenario, which, to evoke its key assumption of Fed success, we called Bravo. With the British vote to exit the European Union, we now downgrade out outlook.
Our new scenario names are Contagion (subjective probability[1]=35%), Containment (60%) and Immunity (5%). They've been formulated to underscore what we now see as the largest source of uncertainty—how resilient the rest of the world will prove to the political, economic, and market fallout from the Brexit vote.
Note that the probabilities we now assign across scenarios are darker than before. We lift the subjective probability assigned to our pessimistic scenario all the way to 35% from 15%, degrade the probability placed on our slow-growth, low-inflation central scenario to 60% from 75%, and lower the odds of our fast-growth, fast-inflation scenario to 5% from 10%.
These changes to our scenario names and assumptions are shown as revisions to our assumptions table that follows: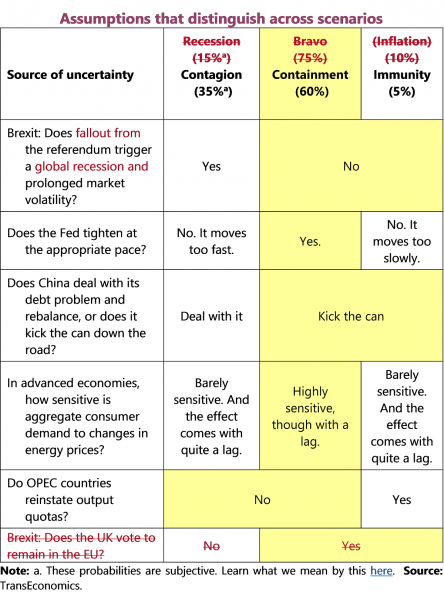 These are what we call "pivotal forecast assumptions"[2]—the ones that distinguish across scenarios. Our assumptions underlying all three scenarios (which, rephrased, compose a list of what we see as tail risks), remain unchanged: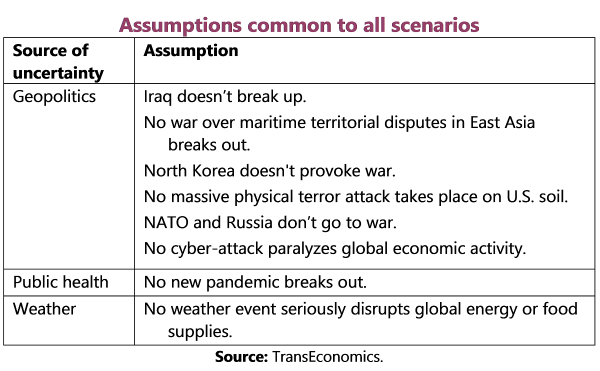 Before we close, we remind you that you can always find our scenario assumptions handy here.
[1]These probabilities are subjective. Learn what we mean by this here.
[2] Read (in Spanish) about our scenario-based approach to macro and market forecasting here.
Genevieve Signoret
17 feb 2016
Resumen
Ningún experto que he consultado ve probable que el acuerdo resulte en una recuperación significativa del precio internacional de petróleo crudo. Es decir, la reacción inicial de JPMorgan está en sintonía con las reacciones del consenso.
Como caso ilustrativo, la reacción general de Barclays coincide con la de JPMorgan.
En lo personal:
Veo cualquier acuerdo entre Arabia Saudita y Rusia como necesariamente frágil dado el apoyo militar que brinda Putin a Bashar al-Ásad en la guerra civil de Siria.
No obstante este acuerdo preliminar, mi incertidumbre en cuanto a cualquier pronóstico del precio de petróleo sigue estratosférica; se trata de un mercado sumamente complejo e impredecible en el que todo es posible.
Antecedentes
Tras una reunión no programada en Doha, los ministros de petróleo de Arabia Saudita, Venezuela, Qatar y Rusia anunciaron que congelarían su producción de petróleo crudo a niveles de enero 2016. Su acuerdo queda supeditado a la cooperación de otros productores.
Qué dice Barclays
Resumen:
Cualquier mejora de precio que pudiese resultar de este acuerdo sería mínima.
Es poco probable que se convenza a otros productores clave como Irán e Iraq que cooperen.
Y aunque ello se lograra, el efecto sería transitorio: el ajuste alcista en el precio incentivaría más producción en EE UU de aquellos productores de esquisto (shale) que operan cerca de sus puntos de equilibrio.
Detalle:
Antes de este anuncio, para la producción de Rusia, Qatar y Venezuela, ya se proyectaba cero cambio o reducción. Ninguno tiene holgura que explotar. La producción rusa está cerca de máximos históricos para la época postsoviética.  Qatar y Venezuela luchan con tendencias de declive.
Irán recién se libera de sanciones internacionales por su programa de enriquecimiento de uranio. Aunque ya ha incrementado sus exportaciones, permanecen aún inferiores en un millón de b/d al nivel anterior a las sanciones. Sus líderes han expresado claramente que verían injusta cualquier sugerencia de que exportaran menos de ese nivel.
La producción de Iraq crece viento en popa.
Sin embargo, el acuerdo es significativo, ya que marca la primera vez desde noviembre 2014 que Arabia Saudita relaja su oposición férrea a restringir producción.
Mi propia perspectiva
Me persuaden los expertos citados y los demás consultados: el acuerdo difícilmente detonará una recuperación en el precio del crudo.
A los comentarios de dichos expertos sólo añadiría dos cosas:
Considero cualquier acuerdo entre Arabia Saudita y Rusia frágil dado el apoyo militar que brinda Moscú en la guerra civil siria al enemigo de Arabia Saudita, Bashar al-Ásad.
Mi incertidumbre permanece estratosférica. Nuestra experiencia del último año nos confirma que, en este mercado sumamente complejo e impredecible, todo es posible.
---
Update History:
17 febrero 2016: Ayer, 16 de febrero, los analistas Miswin Nahesh y Kevin Norrish publicaron "OPEC output agreements: Still between a rock and a hard place". Compartimos su perspectiva.
Genevieve Signoret
04 feb 2016
Si me han estado siguiendo en Twitter o han revisado nuestros pronósticos actualizados, sabrán que veo un alto riesgo de que la economía estadounidense entrará pronto o ya ha entrado en recesión. Recuerden que las recesiones inician con mera desaceleración, por lo que el hecho de que la actividad siga en expansión no basta para refutar la hipótesis de recesión.
En EE UU, las solicitudes de compensación por desempleo dan indicios más oportunos de puntos de inflexión en el ciclo económico que la tasa de desempleo. Esta gráfica del blog (de lectura obligada para cualquier analista) Calculated Risk muestra que la tendencia aún indica expansión.
Estaremos monitoreando este indicador con especial atención en semanas venideras.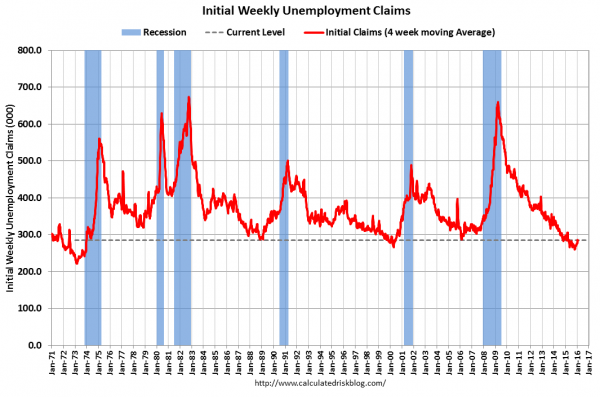 Genevieve Signoret
04 dic 2015
En EE UU, la baja inflación y la lentitud de los salarios sugieren que, no obstante la baja tasa de desempleo, los mercados laborales permanecen débiles. ¿Entonces por qué la Fed tiene ganas de normalizar ya su postura monetaria? Una posibilidad es su temor de que surjan otra vez burbujas en el mercado de bienes raíces. De hecho, diversos expertos ya emplean la palabra burbuja para describir las alzas en el segmento de vivienda multifamiliar. El que la Fed intente moderar o desinflar burbujas conlleva a la pregunta, ¿es posible que un banco central desinfle una burbuja en bienes raíces sin inducir una recesión? En su reciente nota de investigacion Interest Rates and House Prices: Pill or Poison? Òscar Jordà, Moritz Schularick y Alan M. Taylor de la Fed de San Francisco sugieren que no.
Inician motivando su decisión de explorar la relación entre las tasas de interés y el precio de las casas en los Estados Unidos:
This Economic Letter investigates the link between interest rates, mortgage lending, and house prices. Quantifying this link is important in assessing whether or not interest rate policy can be used to guard against leveraged asset price booms in practice. Housing plays perhaps the most important role among asset classes because purchases are typically leveraged through mortgages. Many consider the 2002–06 housing bubble an important trigger of the subsequent financial crisis. However, economists disagree about the role that low interest rates played in fueling the house price boom. Our goal in this Letter is different. We instead ask how much interest rates would have had to rise to keep housing prices under control.
Demuestran que el uso de tasas para desinflar burbujas sería eficaz pero costoso. De hecho, estiman que, para desinflar la burbuja hipotecaria que condujo a la crisis financiera de 2007-08, la Fed habría tenido que elevar la tasa de fondos federales al nivel estratosférico de 8%, nivel que, según sus cálculos, habría causado más daño que la Gran Recesión:
By our calculations, such a large increase in interest rates would have depressed output more than the Great Recession did, roughly speaking.
Concluyen que desinflar una burbuja en bienes raíces elevando tasas de interés luce factible pero contraria al doble mandato de la Fed:
What is the takeaway then? Slowing down a boom in house prices is likely to require a considerable increase in interest rates, probably by an amount that would be widely at odds with the dual mandate of full employment and price stability…In restraining asset prices, while the power of interest rate policy is uncontestable, its wisdom is debatable.
Agradecemos a Tim Duy por habernos señalado esta nota de investigación.
Genevieve Signoret
19 oct 2015
Macro Views
Activity
Signs are everywhere that economic activity slowed down in quarter three everywhere, though especially in emerging economies and in particular in manufacturing and international trade. China's GDP slowed to a quarter-on-quarter annual rate of 6.9% in quarter three. Brazil's economic activity index had contracted again in August. We find persuasive the arguments set forth by JPMorgan and others that the manufacturing slump is stemming from a mere inventory correction. These happen when companies overshoot in their demand forecast and build up unwanted inventories, which they then have to shed. This fits jobs market data, which do not speak of layoffs.
This week's slew of global manufacturing PMIs and, for Korea and the UK, first estimates of Q3 GDP will clue us in as to whether output is recovering in quarter 4.
Balance of payments
Turkey is better braced for a Fed hike than it was back in May 2013 when then Fed Chair Ben Bernanke first mentioned tapering. Last week, Turkey reported shrinkage in its current account deficit to a trailing 12-month August ratio of 5.5% of GDP (US$43.1 bn) from a prior 5.8% ($45.1 bn). JPMorgan wrote in last Friday's Global Data Watch that the August deficit marked the country's narrowest for August in 11 years and the narrowest overall in six years. Explaining the drop was an improved trade balance driven chiefly by a plunge in the value of imports—itself driven on the volume side by a sharply weakened Turkish lira and on the import price side by sharply lower international energy prices. Turkey's August current account deficit was covered entirely by capital inflows; no reserves were lost.
Prices
Although September year-on-year U.S. headline consumer price inflation was nil, the core rate accelerated slightly to 1.9% from the August 1.8%. This number still falls short of the Fed's 2% inflation target. Also, the rate for Fed's preferred measure, core PCE, stood at only 1.3% in August.
Consumer price inflation in China slowed down sharply in September to 1.6% from the previous 2.0%. This slide gives leeway for monetary policy loosening already this quarter.
Policy: monetary
The near consensus within the FOMC to hike rates this year seems to be breaking down, with powerful Board of Governors members Lael Brainard and Daniel Tarullo and Federal Open Market Committee (FOMC) Vice Chairman and New York Fed President William Dudley cautioning so loudly against premature tightening that their speeches are being interpreted as a mini rebellion (see Brainard drops a policy bomb, by Tim Duy, and The Fed board is now seriously split, by Gavyn Davies). While we acknowledge that uncertainty is high and suffer from it ourselves, we hold to our call that the Fed will hike rates to 0.25–0.50% in March, not before.
We see the Fed as the only major developed market central bank likely to raise interest rates soon and expect the central banks of Japan and the euro area to extend or speed up quantitative easing in the next 15 months, with Japan's moving first. For this week, we forecast that the European Central Bank (ECB) will leave rates and the pace of quantitative easing both unchanged from last month. By our reading of recent ECB communication, monetary policy committee members judge the current asset purchase program to be working.
In emerging markets, we anticipate loose monetary policy stances till the Fed hikes, then a slew of copycat rate hikes to protect currency valuations. An exception is the People's Bank of China, which we think will cut rates and its required reserve ratio this quarter. This means that Brazil and Turkey on Wednesday will hold rates unchanged next week.
Policy: fiscal
The U.S. Congress has not yet suspended or raised the debt limit. The deadline has passed but the Treasury says it won't run out of cash until about November 3. If not resolved soon, Treasury bond market volatility could rise. We would see that as a buying opportunity, for we gauge the risk of a default to be virtually zero.
Moody's cut Brazil's rating to BBB–, which is still one notch above junk status. It left its outlook negative. Moody's specifically cited political uncertainty as a factor in its decision. Rousseff has been unable to pass a package of austerity measures amid the ongoing corruption scandal at Petrobras and her abysmal approval ratings. The deficit is at 9.2% of GDP in August; its gross debt is projected to rise to 70% of GDP this year, from 62% just two years ago. Standard & Poor's now rates Brazilian sovereign debt junk, while Fitch and Moody's continue to call it investment grade.
Politics
The USA still has no House speaker to replace John Boehner. The Republican party controls the lower chamber but is split into hardline conservatives who prefer ideological purity over actual governing and moderates who will cut deals with Democrats if need be to get things done.
Polls show that analysts and Democratic voters saw Hillary Clinton as having won the first Democratic Party debate. Vice President Joseph Biden has not yet decided whether to run. He would be a much more formidable contender than her current opponents are, as he matches her mastery of policy detail. Given the weak field of Republican candidates, we expect a Democrat to win the presidency again in 2016. But this view has no bearing on our market view and won't till we also have a view on which parties will control the two legislative chambers. It's too early for that.
Brazil's Supreme Court made rulings that will make it harder for Congress to impeach President Dilma Rousseff. Her government is scrambling to squelch rumors that Brazil's finance minister, Joaquim Levy, is about to resign. Brazil is experiencing stagflation resulting, in our view, from the popping of a private credit bubble, fiscal imprudence (which the central bank has had to offset by raising interest rates even in the face of economic weakness at first, contraction subsequently), weakened demand from China, and falling world commodity prices.
Geopolitics
Tensions remain high in Syria, where Russia could clash accidentally with the USA or its NATO ally, Turkey; and the South China Sea, where the U.S. Navy says it will send ships to patrol inside the 12 nautical miles of the "islands" China has built on top of reefs to make clear the U.S. position that these are international waters and hence must be kept open to a free flow of trade and navigation.  Although both these risks are small, they bear watching.
Next four weeks
Ongoing
China: Low inflation opens space for more monetary policy loosening. We anticipate both a rate cut and a cut in the required reserve ratio. Monetary policy meetings are not preannounced.
Middle East: Russia–U.S. and Russia–Turkey (a NATO member) could inadvertently clash in Syria. Probabilities are small.
South China Sea: China–USA could clash, as U.S. Navy ships approach islands built artificially by China. Probabilities are small.
USA: Budget crisis. Volatility could resurge in bond markets. The U.S. Treasury will run out of money around November 3 if Congress doesn't raise the debt ceiling on time. This issue is entangled with the Republicans' struggle to elect a House speaker now that John Boehner has announced his resignation from that job. No one seems to want the job. 
Tuesday 20
Mexico: Central bank reserves (prior week).
Wednesday 21
Brazil: Consumer price: IPCA (Sep, consensus: 9.7% y/y), monetary policy decision (TransEconomics and consensus: no change).
Japan: International trade: customs cleared (Sep). Expected to show a decline. This is a nominal indicator so it reflects changes in prices as well as volumes. Later this month, the Bank of Japan will report real trade. We expect both reports to show declines.
Mexico: Retail sales (Sep).
Turkey: Monetary policy decision (TransEconomics and consensus: no change). Even though y/y inflation has accelerated to 8% in September from 7.1% in August and 6.8% in July, the Central Bank of the Republic of Turkey will probably stay on hold till after the Fed raises rates.
Thursday 22
Brazil: Unemployment rate (Sep).
Euro Area: ECB monthly report, monetary policy decision. TransEconomics: No change. By our reading of recent ECB communication, monetary policy committee members judge the current asset purchase program to be working.
USA: FHFA house price index (Sep).
Friday 23
Euro Area: Markit services PMI (Sep, flash).
Global (Japan, USA, Euro Area): Markit manufacturing PMIs (Oct, flash).
Korea: GDP (Q3, first estimate).
Tuesday 27
Euro Area: Money supply (Sep).
Mexico: International trade (Sep).
UK: GDP (Q3, first estimate).
USA: Consumer confidence (Nov), FHFA house price index (Aug), Markit services PMI (Oct, flash).
Wednesday 28
USA: CNBCRepublican Debate among candidates running for president (7:00 PM Mexico City time). Candidate with at least 3% polling average appear in prime time, the rest in an undercard 5:00 PM.
Japan: Industrial production (Sep), Shoko Chukin survey of business sentiment (Oct).
USA: Monetary policy decision (TransEconomics and consensus: no change), durable goods orders (Sep), S&P/Case-Shiller house price index (Aug), Conference Board consumer confidence (Oct).
Thursday 29
Germany: Unemployment rate (Sep), CPI (Oct).
Japan: Industrial production (Sep), monetary policy decision (TransEconomics and consensus: no change). The Bank of Japan seems to be watching not its traditional core inflation measure, which excludes food alone, but rather one which excludes food and energy both. This more conventional measure of core inflation has risen to over 1%.
Korea: Industrial production, flash (Oct, flash).
Mexico: Monetary policy decision (TransEconomics and consensus: no change). Banco de México continues to signal that it will postpone hiking till the Fed does. Inflation pressures appear to be low, despite peso weakening from a year ago and low unemployment.
UK: Money supply (Sep).
USA: GDP (Q3, first estimate).
Friday 30
Euro Area: Unemployment rate (Sep).
Korea: Industrial production (Sep).
Russia: Monetary policy decision.
Spain: GDP (Q3, first estimate).
Turkey: Internationaltrade (Sep).
USA: Personal income (Sep), University of Michigan consumer confidence and inflation expectations (Oct, final).
Sunday November 1
Turkey: Parliamentary elections.
All week
USA: The Treasury runs out of money if Congress doesn't raise its debt ceiling.
Monday 2
Global: Markit manufacturing PMI (Oct).
Korea: International trade (Oct), consumer price index (Oct), balance of payments (Oct).
Tuesday 3
Brazil: Markit manufacturing PMI (Oct), international trade (Oct).
Mexico: Markit manufacturing PMI (Oct).
Wednesday 4
Global: Markit services PMI (Oct).
Japan: Monetary policy meeting minutes (Oct 5–6).
Turkey: Consumer price index (Oct).
USA: International trade(Oct).
Thursday 5
Brazil: Markit services PMI (Oct).
Germany: Industrial production (Sep).
Russia: Markit services PMI (Oct).
UK: Monetary policy decision (TransEconomics and consensus: no change).
Friday 6
Euro Area: Industrial production (Sep).
UK: Industrial production (Sep), international trade (Sep).
USA: Unemployment rate and nonfarm payrolls (Oct), Fed's Bullard.
Sunday 8
China: International trade (Oct). Imports & export both expected to drop.
Monday 9
Mexico: Consumer price index (Sep), consumer confidence (Nov).
Turkey: Industrial production (Sep).
10–15 November
China: Money supply (Nov).
10–16 November
India: International trade (Nov).
Tuesday 10
China: Consumer price index (Oct).
India: International trade (Oct).
Korea: Unemployment rate (Oct).
USA: Fox Business/WSJ Republican debate among candidates running for president.
Wednesday 11
China: Retail sales (Oct), fixed investment (Oct), industrial production (Oct).
Korea: Unemployment rate (Oct).
Turkey: Balance of payments (Sep).
UK: Unemployment rate (Sep).
Thursday 12
Euro Area: Industrial production (Sep).
Global: OPEC monthly oil market report.
India: consumer price index (Oct), industrial production (Sep).
Korea: Monetary policy decision.
Russia: GDP (Q3, first estimate).
Friday 13
Global: IEA release monthly oil market report.
Euro Area: GDP (Q3, first estimate).
Japan: Industrial production (Sep, final).
UK: RICS house price index. House prices are bubbling again in the UK. (Also in Canada.)
USA: Retail sales (Oct).
Saturday 14
USA: CBS NewsDemocratic Party primary debate among candidates running for president.